Max Life Insurance has recently rolled out a campaign to demonstrate its excellent record in the claims paid ratio.
Aalok Bhan, Director & Chief Marketing Officer, Max Life Insurance talks about the objectives of the latest campaign, and the brand's efforts in bringing positivity around life insurance
Q] Tell us about Max Life Insurance's latest campaign, 'India ka Bharose Ka Number'. What are the objectives behind it and what kind of consumer response have you seen?
You purchase a life insurance policy only to ensure that in your absence the goals that you set for your loved ones do not fall by the way, if you fall by the way. So that is the core purpose of life insurance. If in the moment of truth, an insurance policy that you've bought does not deliver its core objective, then you have lost its full objective. At Max Life, our core purpose is to build trust in the brand. Therefore, we have been saying for four years now that our claims ratio has been growing and is one of the leading numbers in the industry. And that is why we have lifted this particular theme to say that you should not worry if you have bought a life insurance from Max Life Insurance, because your claims will be paid.
Over the years and over decades, some of the insurance claims by some companies have not been paid due to the terms and conditions, etc. So the consumer trust in this matter is a bit low across the industry. Therefore, we are telling our consumers that with Max Life, you don't have to worry about the claims because our history has shown that we are leading our claim paid ratios and this year, it is 99.35%, which means 99.35% of all claims that are raised by our policyholders are being paid. In fact, we are now working towards also paying these claims in shorter turnaround times. So there are some procedures that we follow where we can even pay a claim in 24 hours. With the campaign, we are saying that we are giving you the 'bharosa.' We are trying to change the narrative and reassure consumers and restore trust with this campaign.
Q] What media mix and budget have you allocated for the campaign?
Our media mix for this campaign, and for many more of our upcoming campaigns is a pretty balanced budget mix, but increasingly tending to go towards the digital space. It's not because digital is fancy and very critical nowadays, but because we believe that our brand needs to be where our consumers are. So our media mix is around 70% digital across all channels, whether it's YouTube, including Google or OTT platforms, and 30% towards traditional media which is mostly TV, because the maximum reach is still on TV. So to answer the question, it is 70:30 split for digital and traditional. We used to be at 60:40 around a year ago and a 50:50 a year before that, so we are gravitating increasingly towards digital mediums.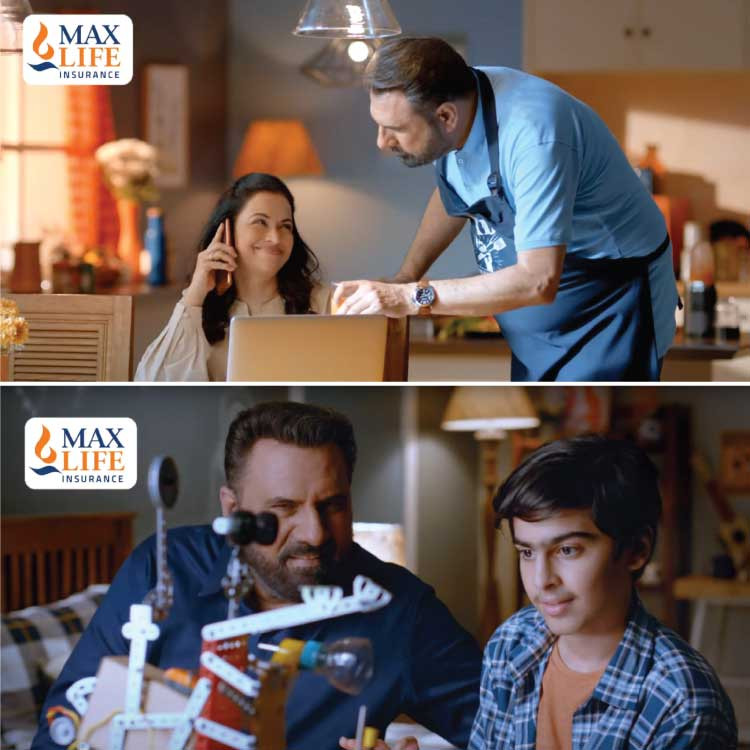 ABOUT THE BRAND
Max Life Insurance Company Limited is a joint venture between Max Financial Services Limited and Axis Bank Limited. It offers comprehensive protection and long-term savings life insurance solutions, through its multi-channel distribution including agency and third-party distribution partners.
Facts
Creative Agency: Tribha
PR Agency: Edelman India Communications
Digital & Social Agency: Saatchi & Saatchi Propagate
Media Agency: Madison Communications Pvt ltd



Q] What new avenues or formats are you exploring on Digital, considering it is now taking up a larger share of the spends?
Honestly, we are still in the exploration phase. But we are looking at new age technologies and of course all digital channels like OTT, YouTube, Instagram and Twitter are being explored. In fact, we design our TVCs specifically to be suitable for other digital platforms. We are actually number one on digital life insurance as on e-commerce with about 30% market share. So that happens only if your entire process and your marketing is suitable for the digital consumer.
Q] How is your brand changing the narrative to bring positivity around life insurance?
Unlike in the past, when life insurance was a morose topic, now it is increasingly progressive as life insurance companies including Max Life are attempting to change the narrative. We are a life insurance company and the narrative has changed to celebrating life. Why talk about death? But celebrate with caution by preparing yourself and your family for the downside. That is what we really believe life insurance is. I believe life insurance is the plan B for any individual and any family. And once your plan B is in place, go and play your best game - your plan A, which is your life.
Q] What new plans have you introduced recently for your customers in wake of the pandemic?
As the pandemic hit us, we focused on creating new products more for the pandemic. We were the first in the industry to introduce 'Max Fit COVID Rider' a wellness rider. We sharpened our protection products because protection was a big need. We launched a regulator on JeevanBima to support our products. More importantly, while we have enough plans, we position the plans to meet the existing needs and the anxieties of the consumers. Additionally as a mandate, we want to be a digital first organisation. We moved all our products to be made available digitally, and made all our procedures more DIY. We actually launched about 14 new products during the pandemic, which is probably the highest we have ever done.