Uma Talreja, Customer Care Associate, Chief of Marketing & Customer Officer, Shoppers Stop Ltd talks about the brand's use of progressive messaging, targeting stereotypes that affect women. Talreja also tells us how the brand is 'keeping the love alive' in the current COVID-19 crisis by staying connected with its customers
Q] Shoppers Stop has been rolling out a series of campaigns focused on women over the past several months, the most recent being the 'Recycle for Her Cycle' initiative on Women's Day. Tell us a bit about this trend of communication the brand has adopted.
More than half of the customer base of Shoppers Stop consists of young families influenced by women and another 20-25% is women shopping for themselves. Over the years, Shoppers Stop has always promoted modern family values and encouraged progressive values that challenged notions and situations that were limiting. The brand has always been the voice of positive reinforcement, challenging stereotypes. In the last year or so, the core message has been bringing upfront the women and their impact or potential impact on the prominently known ones like relationships to the society and economy. Our most applauded campaign in this respect was 'It's our time' which used a tongue-in-cheek approach to how women took time to get dressed but in doing so addressed how long it has taken women to get basic rights like voting and now inching towards equal pay. The campaign sent a strong message around women's participation in the workforce. Our other campaigns have taken an off-beat approach to beauty. For example, for Lipstick Day we had a campaign which subtly addresses the acceptance of beauty as a regular routine and also acknowledges how women are the primary influence in a family relationship even when absent. Our most powerful campaign is the Bengali film we made 'Jaago Tumhi Jaago' for Durga Puja which uses the avatars of Durga Maa and brings them into a very positive expression of the modern woman today who is the leader for values that society can adopt.
Q] Marketing for women is often looked upon as gimmicky. How do you work towards building a genuine connection with the female consumer base?
The key to our messaging is that we challenge status quo. However, we do this in a positive and empowering way which inspires new thoughts and behaviour or which discourages stereotyping. This tone of positive reinforcement makes sure we are bold, but authentic. For our topical campaigns we often use character models that bring the message alive unlike fashion brands that restrict themselves to the conventional norm of beautiful women. This is important as we want the message to be delivered by someone who represents it best. We are also keen to drive action on ground to make a change for women that are disadvantaged, and that is where the rubber hits the road. We run two programs: One is around recycling and up-cycling of clothes donated by customers where we are a collection centre for the same. Every kilo of recycled clothing creates employment for two women, and is also good for the environment. For communities in villages, the brand has launched a program, where garments collected from customers and samples from Shoppers Stop are up-cycled to make around 400,000 sanitary napkins distributed for free to marginalised women in villages and to household help of our consumers.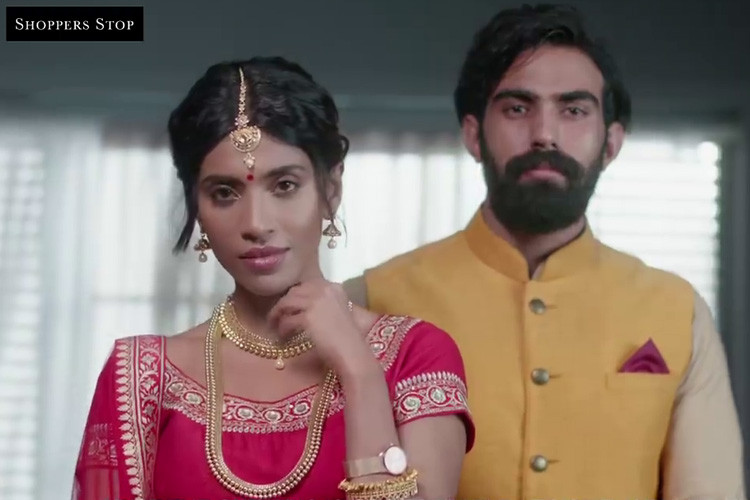 ABOUT THE BRAND
Shoppers Stop Ltd is a leading retailer of fashion and beauty brands, established in 1991. Spread across 90 department stores in over 43 Cities, the company also operates 11 home concept stores, 135 Specialty Beauty stores of MAC, Estée Lauder, Bobbi Brown, Clinique, Smash box, Jo Malone and Arcelia. Shoppers Stop is home to one of the country's longest running programmes, 'First Citizen'. The brand's diversified omni-channel offering spans over 600+ brands.
FACTS
CREATIVE AGENCY: CONTRACT ADVERTISING
MEDIA AGENCY: WAVEMAKER
DIGITAL AGENCY: AUTUMN WORLDWIDE
PR AGENCY: PERFECT RELATIONS PVT. LTD.
Q] Tell us a bit about the brand's initiatives in the e-commerce space. What is Shoppers Stop doing to ramp up its presence on Digital platforms and to grow its online shopping base?
Our ecommerce web and app are aimed at a 'shop at home' experience for our core customers especially our members - First Citizens. We try to keep our e-commerce and digital efforts experiential apart from the performance marketing efforts, and we integrate online and offline and are consistently omni-channel. Our digital Kendall + Kylie campaign used Facebook Spark AR, and we were the first retailer to use this technology in the offline space worldwide. The activity generated shared media equivalent to 35% of the entire campaign budgets. After the launch of activity in week 2, sales grew by almost 200%. We are also early adopters of the Endless Aisle solution that brings together all our inventory into a digital catalogue that customers can browse while in store. We also have a Snap.Find.Search functionality to help customers discover products visually through on-site search using visual recognition technology. Customers have been responding positively to the new feature which allows you to take the photo of any fashion look that you like – in real life or on social media – and to find the same and similar products from our vast catalogue instantly. Not only does it shorten the journey from discovery of a product to check out, it also offers a much smarter experience. Moreover, the company's strategic partnership with Amazon provides us with an opportunity to fortify our presence for customers wherever they are.
Q] The brand recently launched its flagship store in Guwahati, the first in the North East. How important is that market to Shoppers Stop?
With our store in Guwahati, we forayed into the Northeast market for the first time. We are seeking to tap the growing demand in states such as Assam, Tripura, and Manipur. We have also launched our first store in Bhubaneswar and in Varanasi. We are strategically expanding more into tier 2 and 3 cities and are also modelling our assortment and marketing plans to be locally relevant to each market.
Q] How big is your retail footprint now, and what kind of expansion do you expect to achieve by the end of this year?
We are currently spread across 90 stores in 43 cities. Expanding our retail footprint, the company has recently added five new stores in Bhubaneswar, Kolkata, Pune, Lucknow and Hyderabad. We have stores in the pipeline including departmental stores format adapted to smaller sizes and an exclusive beauty format store called Arcelia. These stores are a one-stop destination for premium beauty coupled with a smart and indulgent service offering.
Q] The ongoing pandemic has impacted all sectors and businesses, including retail. What is Shoppers Stop doing to cope with this situation?
Our top priority is to keep our customers and employees safe during this time. During the lockdown, we are conscious of the control measures advised by the government. Post lockdown, ramping up online and digital seems the obvious and we are thinking through our plans while all our teams are working from home on the back-end and front-end plans for post-lockdown recovery, including how to extend safety measures on a consistent basis.
Q] You also recently changed your logo to pay tribute to medical professionals during the coronavirus crisis. Tell us how you've had to re-look at and revise your marketing approach during this difficult time.
Our agency came up with an innovative creative which transforms its identity into a heart and infinity sign to salute and applaud frontline professionals for their dutiful actions during these tough times. Currently all our stores are closed for business, and we are regularly updating customers on our actions, trying to create engaging content aimed at entertaining and inspiring people when at home. It will be important that consumers trust us and respect us when we open and that is paramount. We are hoping we will 'keep the love alive' in difficult times through our actions that support the larger good.