Just around the time the Delhi government enforced the odd-even rule in the capital to deal with the rising problem of pollution, Uber launched its #LeaveYourCarBehind campaign. Manisha Lath Gupta, Marketing Director, Uber India & South Asia talks about the timing of the campaign and the insight behind it
Q] Tell us about Uber's new campaign #LeaveYourCarBehind and was it timed perfectly to match Delhi govt's odd-even rule…
Ironically we thought about it many months ago. We felt that we should be doing more campaigns around trying to solve and address the challenges in cities which vary from city to city. So, in Delhi, clean air is the big challenge,
in another city congestion might be, or lack of green space. But, we knew that clean air is a challenge for Delhi post Diwali as we witness it every year. So, we had predicted it and were actually planning for it. And we thought of running this campaign during this month urging people to leave their car behind and to take public transport.
Q] What are the mobility options you are providing to the people through this campaign and have you added any new services?
We are well positioned, because not only does Uber offer multi-model suite of products for you to take in Delhi, which starts from our car products, including carpool, Uber Go, Uber Premier, Uber Hire, Intercity, XL, for all types of journeys, but, now we also have Uber Auto and Uber Moto which are becoming a significant part of our trips in the Delhi NCR region. The metro network in Delhi is actually one of the best in the country, and so are the buses. Thus we have no excuse left in Delhi for people to take their own cars. What we have recently also started doing is offer journey planning on our app. So, if you try to go from one place to other using the Uber app, it will also tell you which public transport can be taken. For e.g. it tells you which metro you can take at what time, and that helps you to plan your trip saying if I take an Uber auto now to the metro station, I will catch this metro… So, we really want to become the operating system of the city. And we want to change people's attitude and behavior towards private car ownership and public transport because we believe smarter cities of the future, which are cleaner and more sustainable need to put more people in fewer modes of transport. That's the only way to decongest cities, clean up our air and have a far more sustainable future.
Q] Have you also brought in about 5000 bike taxis into NCR for this purpose?
We have bike taxis which operate in Gurgaon and Noida. However we don't have permission to run them in Delhi yet.
Q] What kind of marketing mix are you looking at for this campaign?
It's a multimedia campaign. We focused on many print ads. We are also going to show up prominently in outdoor talking about how public transport and specifically Uber contributes to Delhi's clean air. We will also have a good strategy and footprint on social and digital. And lastly radio is something that we are going to be using as an engagement, two way communication model. We believe that for every city radio is hyperlocal and topical and so the RJs have so much credibility and ability to influence. We are not exploring TV because it won't be worth the money, considering it is a Delhi specific campaign.
Q] What kind of growth has Uber witnessed in India in the past year?
While I can't share the numbers with you, I can say that we
are seeing our existing users taking more trips, even people who take cars, now on occasions take auto or moto. Initially it was more like 'Okay, I will take an Uber, I am going to the airport.' But now increasingly people are taking Ubers for going to a party, going to the office, and of course on days it becomes a very important constituent of your mobility mix. India is so big and has so many different customer segments which are pretty much like entire countries by themselves. You can get consumption growth, future growth, penetration growth,
all three are firing for us at the same time.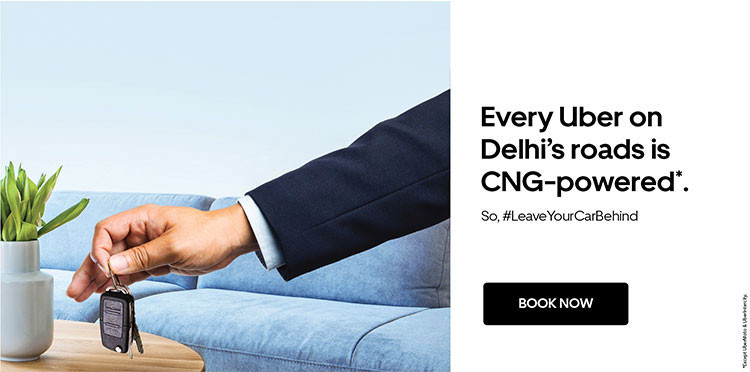 ABOUT THE BRAND
About five years ago, India was the 18th country in the world where Uber entered, as it launched in Bangalore with just three employees. Today, Uber India has over 1,400 employees and continues its growth journey - focusing on providing affordable, reliable and convenient transportation to millions of riders and livelihood opportunities for hundreds of thousands of driver partners. In five years, India has become one of the top three markets for Uber outside of the US.
FACTS
Creative agency: Dentsu Web Chutney
Media agency: Performics for Digital, Madison for Offline
Social and digital media marketing agency: Dentsu Web Chutney
BTL/activation agency: Dentsu Web Chutney
PR agency: Genesis BCW

Q] Around the time that Uber launched its IPO earlier this year, there was rising discontent among drivers as the incentives had been slashed, many went back to their previous jobs, how is the situation right now?
I think that's an ongoing challenge. The market place is all about balancing supply and demand. But, I think the value that you get by driving Uber is still very attractive. For a country where 99.5% of the people's starting salaries are less than 12,000 rupees, you know the earning platform and proposition that you find on Uber is very attractive. So, I think it's just about taking our message to the right target segment and being clear about our communication and attracting the right set of people to come and drive for us. But, we do believe that there will always be enough of a supply in India where unemployment is quite high, and earning opportunities are quite limited.
Q] Time and again rumours keep surfacing about Uber merging its cab business with Ola… how exactly is Uber tackling competition… especially with companies which have local expertise?
We are the ones with the local expertise. I think it's a business which shows up very locally. And I don't think there is any other way of running it without local expertise. I have lived my entire professional career in the country, I have never worked overseas. And I understand this market, and I have worked on big brands and businesses here. I really think we have huge amounts of
local expertise.
Q] You sold your China business to Didi Chuxing, also exited markets like Russia and South east Asia, does India offer a much more level
playing field than China for Uber?
You should just look at the quality of talent that we have in India. I am not sure what the situation was in China, and I don't have any perspective, but I really think that when we sit around the table and talk about stuff, I can see deep expertise in everybody around the table. And everybody comes with huge amounts of experience, knows how to run the Indian market,
and we are doing very well.
Q] What are your efforts to get UberEats on the road to profitability, also how did the previous ad campaign featuring Alia Bhatt help make the brand more appealing?
Yes, we cast Alia in our UberEats film and it has really helped us to cut through the clutter and build awareness for Uber Eats, because we are the third player in the market. And she really helped us to take up our awareness levels to good numbers.
PROFILE
Manisha Lath Gupta is the Head of Marketing of Uber India & South Asia region and oversees the company's marketing initiatives for Rides and Eats Business for Uber.
A seasoned marketer, entrepreneur and leader, she has over 20 years of experience across companies like Unilever, Colgate Palmolive, Axis
Bank, etc.
MARKETING TIP
Brands need to start relooking at themselves and seeing what their purpose is in
the world.