We are living in strange times where boardrooms have been replaced by drawing rooms, offices by work-from-home set-ups, and professional video cameras have given way to mobile phones on which even ad films are being shot now. In the lockdown period arising out of the COVID-19 crisis, deadlines have shrunk, budgets are a fraction of what otherwise shooting an ad film would cost, but creativity has hardly been compromised. Creative professionals and brands have come up with innovative ways to shoot and execute ad films, setting a new precedent. We take a look at some such video ads made at home which delighted and surprised with their sheer novelty and quick thinking.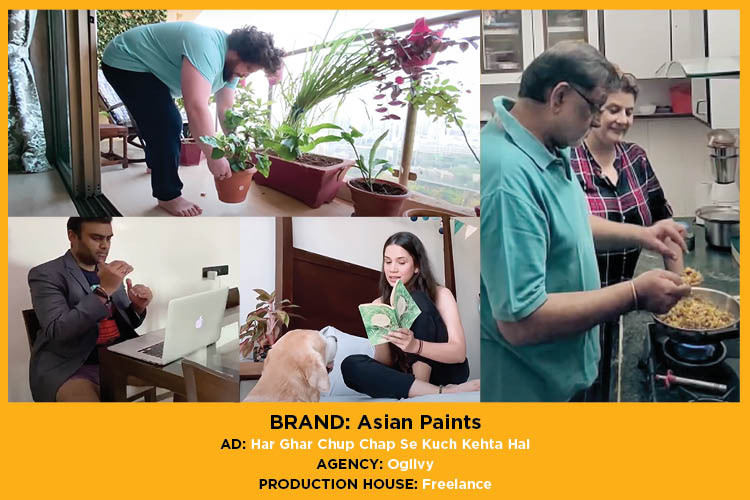 It was during a brainstorming session with their agency, Ogilvy, that Amit Syngle, CEO & MD, Asian Paints decided to bring back the brand's iconic 2007 line 'Har Ghar Chup Chap Se Kuch Kehta Hai' which has seen many manifestations over the years. This time, it would be adapted for the lockdown. Many ideas then kept getting tossed around over video calls. First, they thought of using footage from all old ads to stitch together something suitable, but then struck upon the idea of using real videos, which hit the right note.
But there was a challenge, says Syngle: "We were all very, very worried, because we felt that there is so much happening across social media platforms, where people are just shooting videos at home and putting them up. We didn't want our film to get mixed up with those; we didn't want to be just another video that came in. Another factor that bothered us was that Asian Paints has always stood for and showcased homes which are brilliantly painted with great décor; we didn't know what customers would think if we showed real homes. But as we deliberated further, we became more and more confident that people are living a very uncertain life right now, and they have no expectations. When there are no expectations, no matter what you come out with, as long as it touches a chord, it is going to be good. That motivated us to go ahead with this."
Time-frame:
4.5 days
Challenge:
Didn't want the video to look similar to the sea of videos put up on social media by individual users during lockdown. None of the big production houses were willing to work on the project because the videos that came in were amateur ones
Execution:
Recreate the famous 2007 ad with fresh visuals shot by amateurs with the right emotion to suit the lockdown situation from home.
The brand was against promoting the thought that they were crowd-sourcing videos at this point, because they didn't want to appear gimmicky and also because that would have taken a lot of time. Instead, Syngle reached out to his friends and contacts, as well as the agency's contacts. Syngle explains, "Our brief to them was simple —shoot a video which shows something real happening inside a home. We were fully dependent on those videos coming in. Some were great, some mediocre but the emotion in each one of them was paramount. We did look at modifying one or two later, because whatever came in wasn't perfect. We had a hard time shortlisting the real good ones and stitching them together. But the biggest challenge was to get Piyush Pandey excited in terms of writing the lines, and giving it shape. The first time we did the 'Har Ghar …' campaign in the early 2000s, we had started with his voice, and to have the global creative head of Ogilvy lend his voice for the campaign was a real honour for us."
From brief to execution, it took them four-and-a-half days to pull it off, but not without their share of setbacks. Syngle shares, "The big production houses refused to take up the work, because they wanted it to be shot properly, and if the actual videos don't come out well, they thought their production quality would suffer, and they didn't want to compromise on that. So we roped in an amateur production house, basically someone who has a set-up at home. But it was done pretty well and silently, without violating the spirit of the lockdown. Interestingly, it was done in a small fraction of what would have been the cost if there was no lockdown. This set our minds racing… whether we should keep this as an option in future!"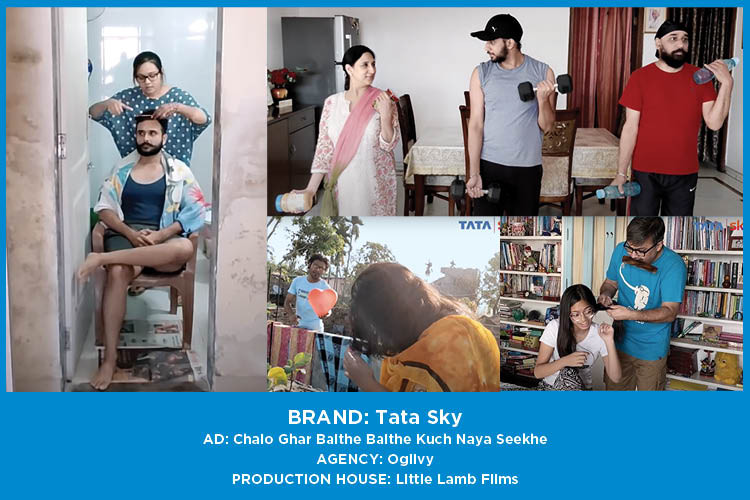 Tata Sky's campaign arose from a basic need to keep its subscribers entertained during the lockdown period. For that, it decided to make 10 of its interactive services free. The task, however, was to communicate that to users of the brand during the 'janta curfew'.

Anurag Kumar, Chief Communications Officer, Tata Sky says, "Normally, we would give a proper written brief to our advertising agency - one that is backed by research, which then would be debated upon internally, keeping in mind the challenges, etc. But these are unprecedented times and the situation is also dynamic. So, we gave ourselves 72 hours to come out with something. There was no written brief, we literally had a call with our creative partner, Ogilvy, and asked them how we could get this message across."

Ogilvy's CCO, Sukesh Nayak, who has worked on the brand in the past, came up with the idea 'Chalo Ghar Baithe Baithe Kuch Naya Seekhe' in a matter of hours. The ask was not to make a video, but the agency was positive the idea could be woven into a video ad, showing real people in their houses learning something new. Prior to this, Tata Sky was only communicating through social media creatives. It agreed to a video ad, as it wanted to get the message across to subscribers on TV. Ogilvy then roped in a production partner, Bauddhayan Mukherji of Little Lamb Films, who said he could pull it off remotely, and they all set out to do the job. But for the very first time, it was all from home.
Time-frame:
3 days
Challenge:
Didn't have apt stock footage to showcase 10 interactive services
Execution:
Director Bauddhayan Mukherji asked his acquaintances across seven cities to shoot videos of themselves pertaining to the theme and send them across to him
Kumar says, "Everything happened on phone calls, WhatsApp messages and on Zoom. The director, Bauddhayan Mukherji, actually called his acquaintances in some seven different cities and said, 'Can you do this for me? This is what you need to do.' He obviously took the script from Ogilvy and tried to work according to it. And then he had families recording videos on phone, and sending it across on WhatsApp. Then he chose the best ones to stitch together. Meanwhile, music was composed in someone else's home and sent across on WhatsApp. Everything - from A to Z - happened in 72 hours flat and without any of us meeting. One thing we knew from the beginning was that we would not be chasing finesse; we left that to the wisdom of our creative partner and production partner to get the best quality under the current circumstances. What we got was an authentic film showing real people doing things specific to our 10 offerings. It looked natural; stock footage wouldn't have done justice to it."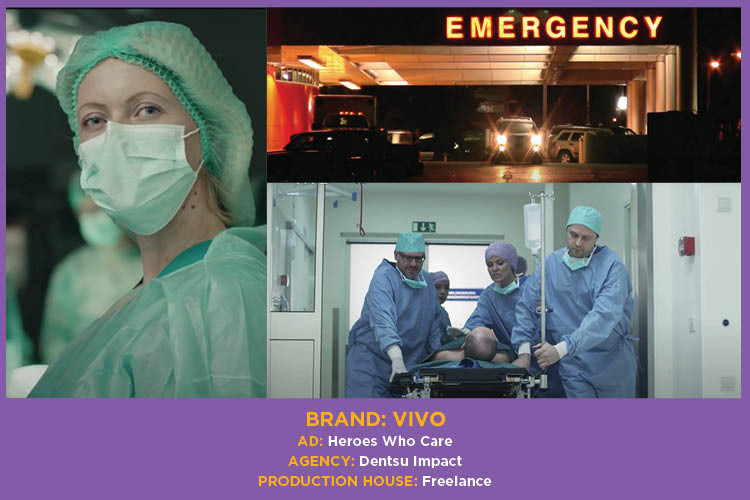 "Vivo set out to salute the 'heroes who care', but the PM got there first by giving a clarion call to acknowledge the healthcare professionals on March 21 at 5 pm," laughs Nipun Marya, Director-Brand Strategy, Vivo India. "We were ruing the fact that half our idea had 'gone', but we were very clear on what we wanted to do in addition to donating masks for our doctors, nurses, etc., on the ground – in our small way, we wanted to thank the people who were taking care of the sick. Therefore, we gave our agency, Dentsu Impact, this single brief and they came up with a script the very next day. We approved it immediately, because we had been working with them for some time and they knew exactly what we wanted. From brief to releasing the ad took a week's time."
At a time when most brands were going with static creatives and social media posts, Vivo was very clear that it needed to bring out a film to convey its message clearly. Marya says, "I was very clear about that from Day 1; in fact, the brief to the agency was to work on a video. Of course, we knew that all production was stalled and we might have to use stock footage, I was okay with that."
In fact, all the video frames used in the ad come from stock footage. Marya says, "We bought a lot of footage, and my agency partners were telling me that they had gone through more than 10,000 pieces of footage to find the right visuals for this film."
Time-frame:
1 week
Challenge:
Taking fresh visuals of healthcare professionals was not possible. Multiple production houses were approached, but no one was willing to execute it
Execution:
Creative team went through 10,000 pieces of footage to find the right visuals for this film.
But even with the footage hurdle out of the way, it was not easy for the brand and the agency to find a production house to execute it. Says Marya, "It was very difficult for us. We reached out to a lot of production houses; they simply refused to do it." After many attempts, they managed to find one person who was willing to execute it in his personal capacity. "We did a lot of video calls with the agency, both sides worked for 3-4 full days and nights, from brief to script to approval. Finding a production house took us a day-and-a-half. The last three days went into finding the right voice, music and of course footage which took a lot of time. In such times, we also have to be very sensitive about the visuals we are showing and thus finding relevant visuals was very challenging. So, hats off to the creative team and to the agency for pulling it off so well."
The entire film happened without anyone ever stepping out of home. Vivo is now promoting the film across all its social media channels.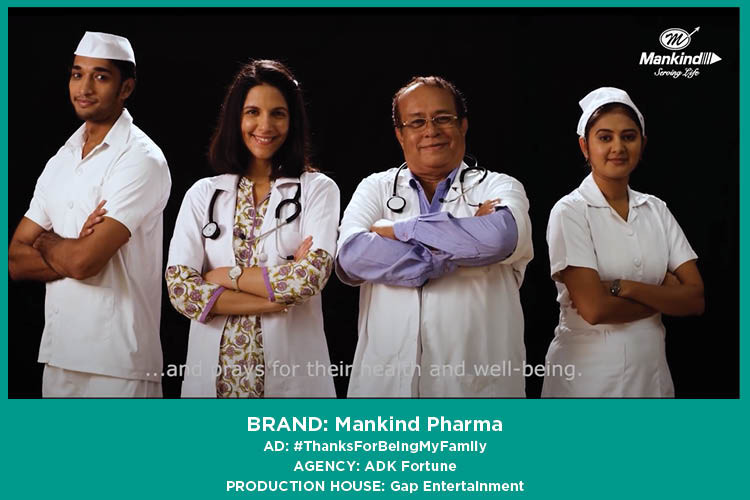 Mankind Pharma was the first brand to not just think of releasing an ad during the COVID-19 outbreak, but also to actually release it even before the nation clapped to acknowledge the healthcare workers on the Prime Minister's clarion call. That is why they got slightly lucky as far as shooting the video was concerned just ahead of the lockdown. Mankind Pharma's ad film was made in four days flat, from start to finish, says the agency ADK Fortune. But even post production was not a cake-walk during the lockdown.

Nakul Sharma, VP and ECD, ADK Fortune recalls, "We managed to shoot everything a day before Mumbai was shut down. It was literally touch and go for us, even though we had to do post production remotely from our homes post the lockdown." Acknowledging his client's quick thinking, Sharma adds, "The client was open to hearing the story on the phone, he took an instant decision to go ahead with it, we then approached the director and producer. Everything, including casting, was done on the phone. That was really helpful because you really need to think on your feet in situations like this. We would have wasted loads of time otherwise if the client insisted on formalities. Honestly, the time required to pull off a film like this would have been anything from 25-30 days otherwise."
Sharma adds, "As a creative person, we are generally present at the shoot. But here we were supervising it over the phone. As soon as a shoot was set up in Mumbai, we Skyped two-three times, but then we lost connection because the Internet went down in Mumbai for some time. So they started taking still shots of the set-up, and sending it to us. We were approving it here and making the minor changes if needed, so it was remote-controlled in a way."
Time-frame:
4 days
Challenge:
Team was questioned by Cinema Artiste union during the videoshoot a day before Section 144 was announced in Mumbai
Execution:
The creative agency managed the shoot remotely, with the director sending indicative still shots on phone

Rajeev Juneja, MD & CEO, Mankind Pharma says the shoot faced roadblocks even though Section 144 had not been imposed until then. "In Mumbai, I remember it was the last day of our shoot when some people from the Cinema Artistes union came and asked us why we were shooting. It took a good amount of convincing; we told them it was for a good cause, for acknowledging our healthcare workers." Post that, the director and producer managed to edit the film sitting in two different locations, co-ordinating on mobiles in their respective homes, because Section 144 had been imposed.
The #ThanksForBeingMyFamily film came before the PM's call to the nation; so we ask Juneja how the idea was born. Juneja explains, "It actually came from a WhatsApp message that was forwarded to me. It said, 'All the places of worship, temples, mosques, churches are closed, only the doctors and medical workers are still at our service, without a care about getting sick. So we should instill our faith in them more than ever now.' This message gave us an idea - we thought why not really propagate it and tell everyone who are our real heroes. That is how #ThanksForBeingMyFamily was born."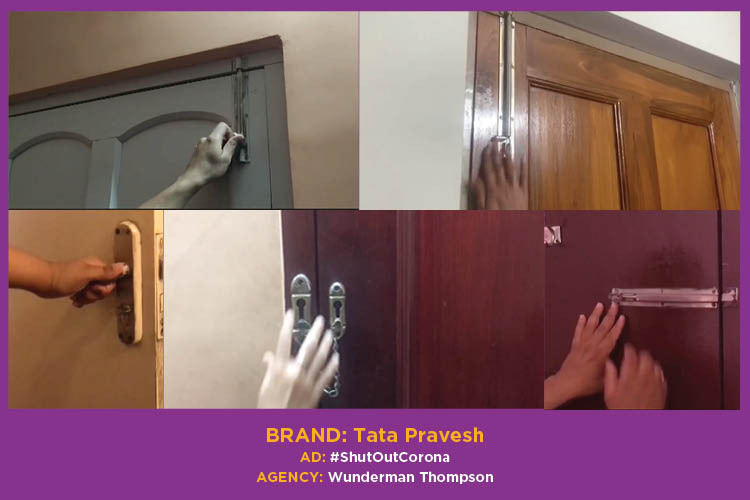 The idea for the Tata Pravesh #ShutOutCorona campaign came from a social media post with a similar name, after which the agency, Wunderman Thompson, proactively thought of coming up with a video campaign.

P Anand, Chief, Services and Solutions Business, Tata Steel Ltd says, "We wanted to launch an innovative campaign and engage with our audience, but were working from home even before the official lockdown. Also, agency offices were shut and so were the studios. But a video was not exactly a part of our brief to the agency, crowdsourcing the videos was an idea that Wunderman Thompson came up with because they thought people largely had a little more time on their hands now and might be able to send videos."
But then came the difficult part of getting the videos. Wunderman Thompson used their all India network, while the brand activated its sales force and call centres across India. The team started calling existing customers and potential customers, asking them to send their videos. So it became a big thing, much larger than what they had anticipated, because the entire ecosystem got activated in sourcing this content.

Arjun Mukherjee, ECD and VP, Wunderman Thompson says, "We thought we would get a few responses, but ended up getting more than 150 videos, of course not all were good. Then a friend gave us the music, a copy-writer put it on his laptop and then we got hold of an in-house editor, who edited the video. All this happened in 30 hours flat." Tata Pravesh says the video cost a couple of lakh rupees only because people contributed on their own, so content was free; it was just about stitching the content together, which was done by the agency.
But Tata Pravesh is in the business of selling doors and windows and while it had a fabulous idea which resonated with the product, it was one that required them to show doors which were not necessarily from the Tata Pravesh umbrella. Was that a dilemma?
Time-frame:
36 hours
Challenge:
When they started off, no production house was accepting work, editing had to be managed by agency
Execution:
Managed to create a film which also doubled up as an engagement exercise with current and potential Tata Pravesh customers through crowdsourcing
Says P Anand, "This comes from the ethos of the Tata Group and I think it goes beyond the product as a brand. At the end of the day, the messaging is important, the brand connect and the product connect are a secondary piece of information. If I am crowdsourcing from my customers, or from the audience, I cannot insist on only a Tata Pravesh door. Also, the most important thing was to engage an audience pro-actively without pushing, because I know that I'm not going to sell this product in the next 21 days."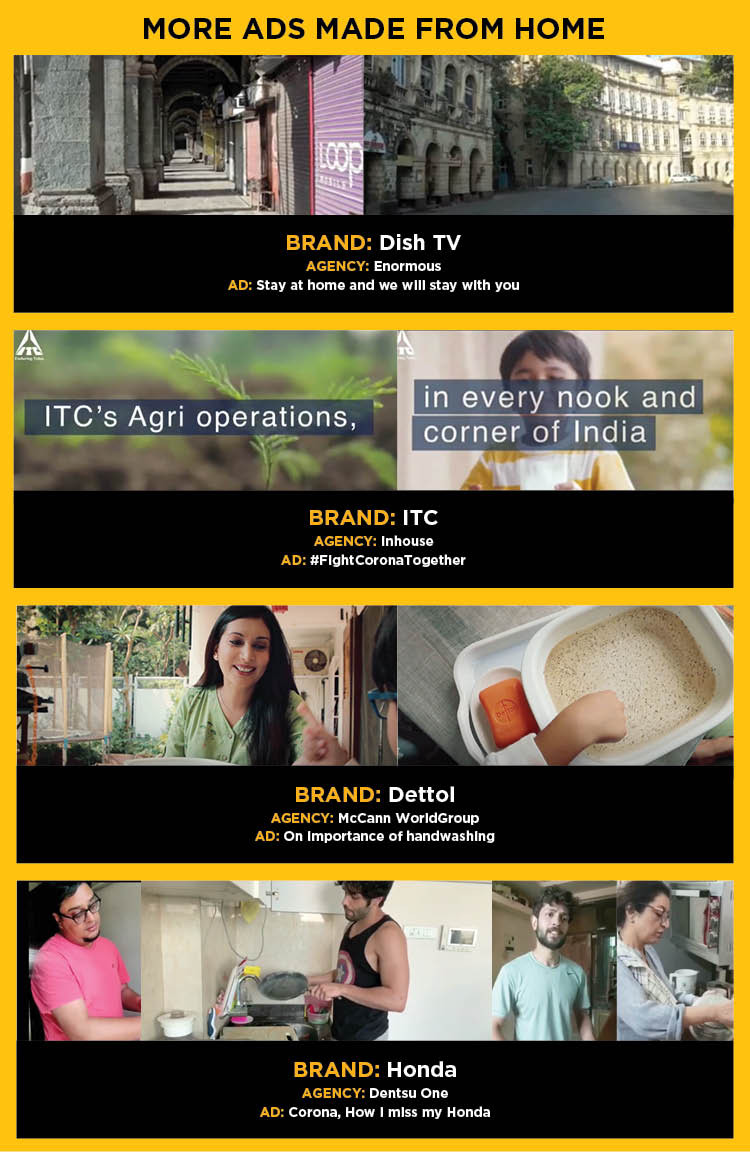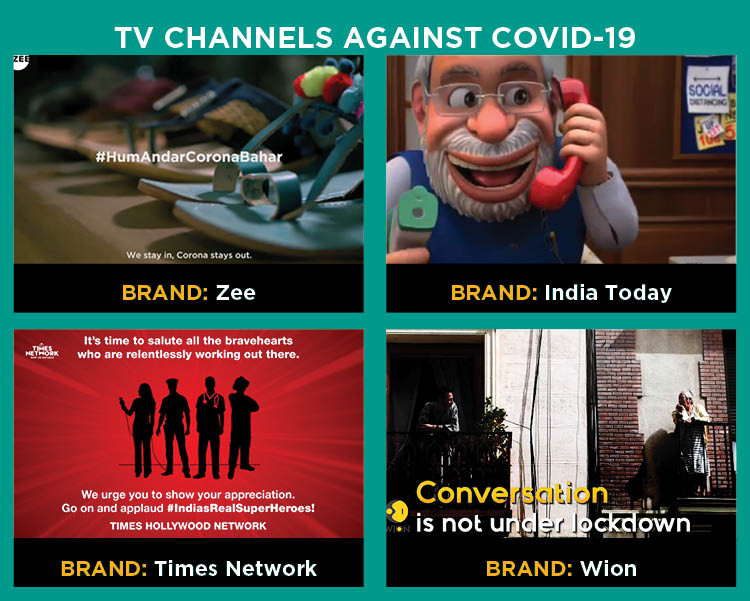 A personal WFH video as a tribute to Mumbai
#togetherstrong
(A film by Tista Sen)

"An ode to the city most of us call home. Everywhere, I was seeing silent pictures and empty roads and I wanted to change that. This city is just alive and that is the image I wanted people to remember. I spent days sourcing photographs. Begged. Borrowed. Since this was no brand but just a personal tribute. I knew I wanted a very strong narrative. And Denzil Smith stepped right in. He did the recording on WA, in fact sent me versions so I could choose. My art director Abhay Arekar did the edit. I wrote this, then deleted it. Then wrote with my eyes shut. What did I remember of the city I love..."

Tista Sen
Regional Creative Director,
Wunderman Thompson, South Asia