The COVID-19 pandemic has changed the world completely and one of its far-reaching effects was seen in dramatically changing consumer behaviour. With the challenges posed by both waves of the pandemic since its advent in March last year, and the consequential lockdowns, marketers across sectors have been compelled to rewire their marketing and communication strategies. Moreover, with Digital becoming a big part of marketing post COVID, it is now crucial for brands to adopt a more customer-centric approach in everything they do. From identifying and accelerating the emerging trends to engaging and empathising with consumers, marketing leaders are now devising strategies to match consumer expectations in the new normal. Irrespective of categories, marketers have had to take a step back during this pandemic and reinvent the marketing wheel as they knew it. The past 18 months have seen marketers push the envelope with innovations on Digital, changing their media mix to include new-age platforms and even content collaborations with influencers.
In this special cover feature, eight marketers discuss the marketing shifts they made during the pandemic.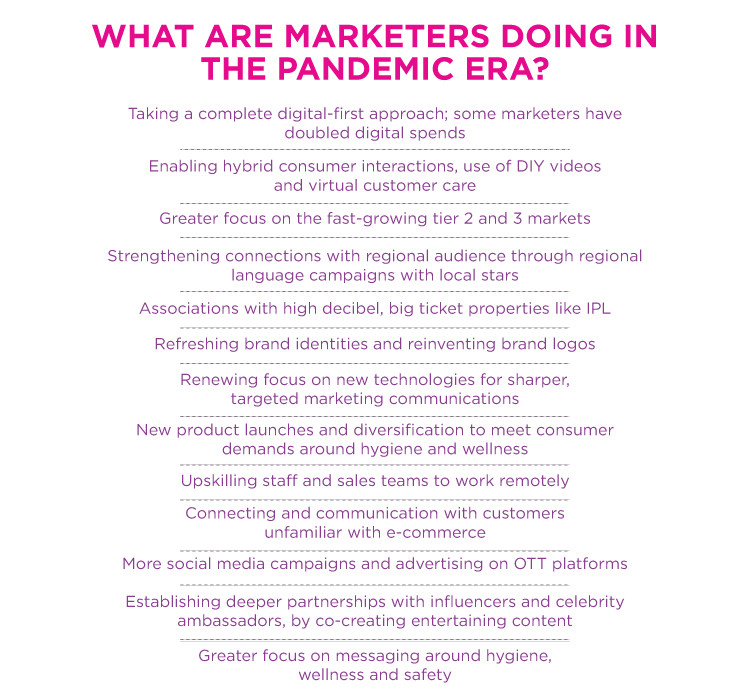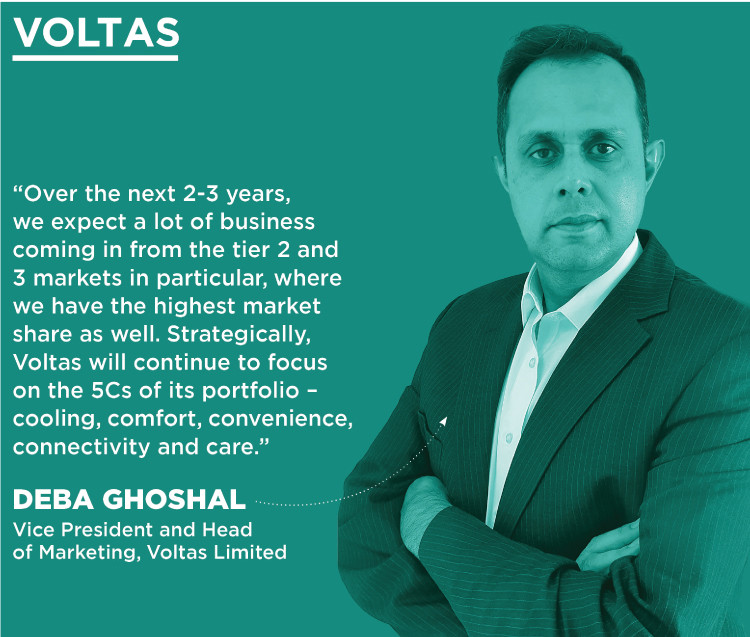 Voltas Limited, best known for its wide range of consumer durables like air conditioners, air coolers, water dispensers and refrigerators, faced major disruptions when the pandemic struck, much like other companies did. However, as Deba Ghoshal, Vice President and Head of Marketing, Voltas Limited points out, the pandemic presented an opportunity to evolve and grow with its consumers in this current scenario. "We leveraged this pandemic to reimagine and resurge during the tough times, and worked around a focused strategy for digitising and ramping up our processes and efforts," says Ghoshal.
Throughout the lockdown, the brand provided virtual servicing by sharing DIY online videos that helped consumers resolve maintenance concerns. "For customers who are still unsure about visiting the stores, we have made available sufficient product information in the form of product demo videos, feature specifications, etc. on our website, and on digital and social platforms," adds Ghoshal. The brand also made this information accessible to its audience through media and channel partners.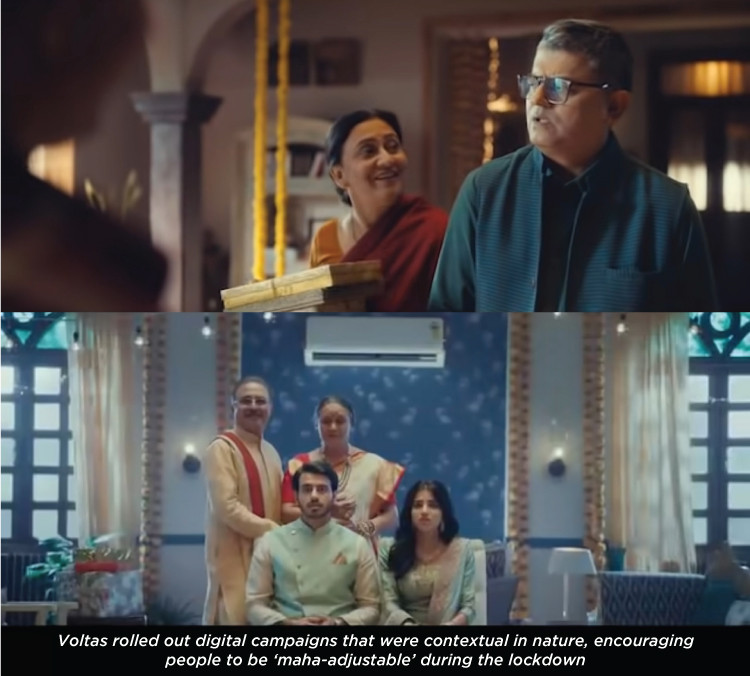 The Digital Bandwagon
Digital?is an asset that Voltas uses very effectively to drive Search and Social. Ghoshal explains that its weightage on Search is maximum, followed by Social and Display, thus making Voltas the highest searched AC brand in India. It continued rolling out digital campaigns that were contextual in nature, on its own handles and encouraged people to be 'maha-adjustable' during the lockdown and received a positive response from consumers. Continuous content that was product centric, offer centric, feature centric, topical and cause oriented was created. "This helped the brand to engage with our consumers in a meaningful way," notes Ghoshal.
Way Forward
"Over the next 2-3 years, we expect a lot of business coming in from the tier 2 and 3 markets in particular, where we have the highest market share as well. Going forward, we are confident of a robust traction for cooling products (air conditioners, air cooler and refrigerators), especially in the second purchase and replacement demand genre. From a strategic perspective, Voltas will continue to focus on the 5Cs of its portfolio – cooling, comfort, convenience, connectivity and care," remarks Ghoshal.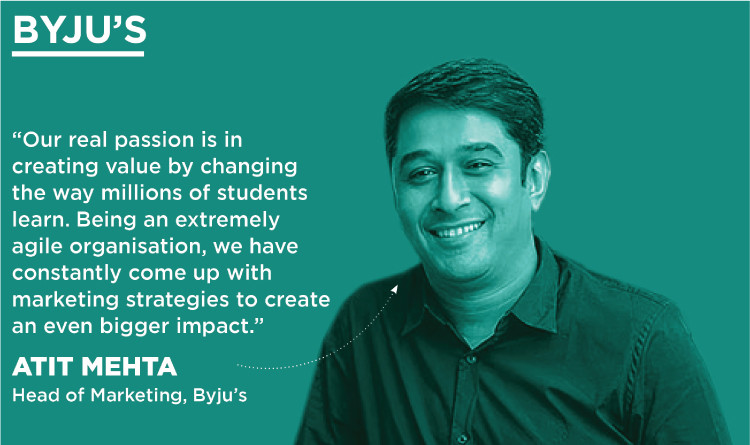 Ed-tech brand, Byju's has made great strides over the years and has really transformed the face of learning across the country. In the last year or so, with schools being shut down on account of the pandemic, the entire ed-tech sector and Byju's too, saw exponential growth.
"Our real passion is in creating value by changing the way millions of students learn. Being an extremely agile organisation, we have constantly come up with marketing strategies to create an even bigger impact. Additionally, with schools being shut and all other learning sources being unavailable, we witnessed online learning being accepted by millions," observes Atit Mehta, Head of Marketing, Byju's. "Even parents understood the limitless possibilities and gravitated in favour of online education. The community will continue to adapt to this new normal of learning, giving rise to a blended format of learning," Mehta adds.
Byju's also redesigned its marketing approach to address the changing need of the hour. It made the content on its learning app free and launched Byju's Classes to provide a comprehensive after-school learning experience. To amplify the reach, the brand unveiled a campaign featuring Shah Rukh Khan. Mehta explains that the brand also focussed on strengthening its connection with regional audiences in markets like Kerala, Andhra Pradesh, Telangana, and Karnataka through their brand ambassadors like Mohanlal, Mahesh Babu, and Sudeep Kiccha. The brand also leveraged big ticket cricket properties like the IPL and World Test Championship.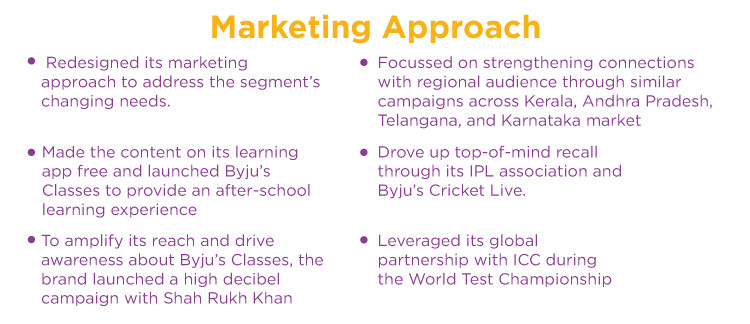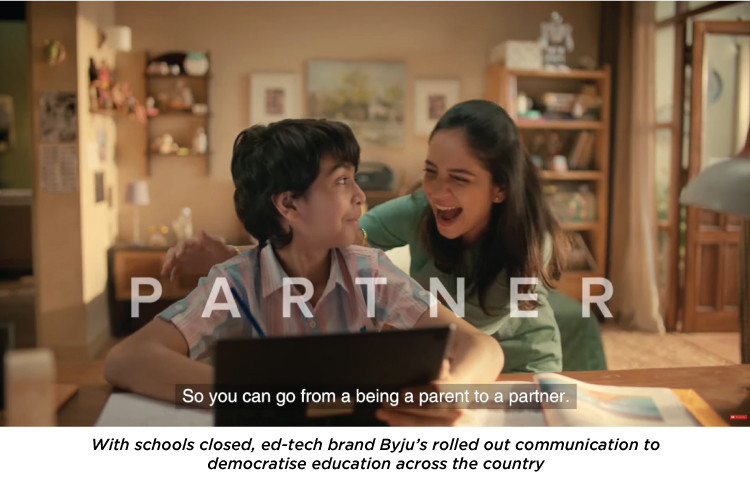 The Digital Bandwagon
On the digital front, Byju's hosted the third season of Discovery School Super Premier League to create a first-of-its-kind 100% virtual challenge, which saw massive participation of 2.35 million participants across 23,000+ schools. Additionally, the brand harnessed its social initiatives to make digital learning a reality for children across the country, even in the most remote areas with Byju's Give initiative.
Way Forward
With schools being shut, the brand saw online learning being accepted by millions and an exponential growth with greater adoption of ed-tech. Mehta also adds that the brand will spearhead blended learning and democratise learning across the country.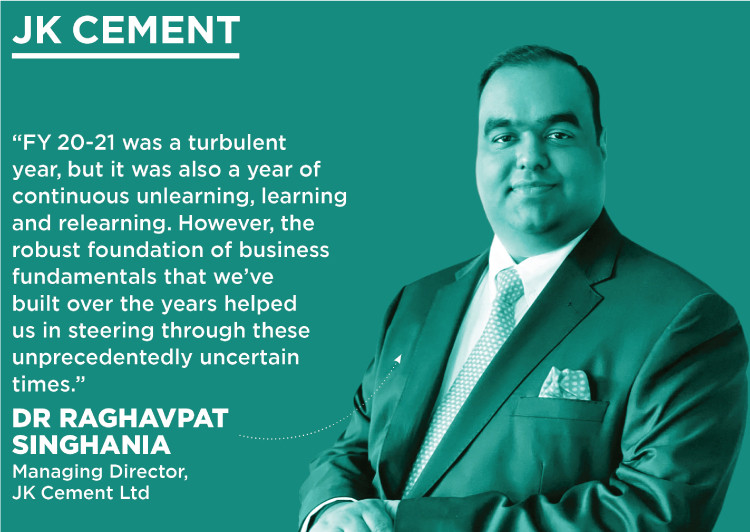 From a drop in demand in the cement industry to the migrant exodus, JK Cement was definitely impacted as the construction industry took a major hit during the pandemic. Nonetheless, Dr Raghavpat Singhania, Managing Director, JK Cement Ltd says the brand viewed this crisis as an opportunity to revamp its identity and realign its business. "The key objective behind the rebranding was to depict our vibrant persona that is future-forward, innovative and aligned with the changing times," explains Singhania, adding that the brand constantly strives to create value for all stakeholders and remain relevant. "FY 20-21 was a turbulent year, but it was also a year of continuous unlearning, learning and relearning. However, the robust foundation of business fundamentals that we've built over the years helped us in steering through these unprecedentedly uncertain times," notes Singhania.
As the economy opened up post the lockdowns, JK Cement saw demand in rural areas recovering faster than the urban counterparts. Leveraging the opportunity in these regions, the brand rolled out aggressive rural drives to cover white spaces and untapped markets, which gave them an impetus in gaining incremental volumes. Apart from that, it also created an e-visit module in its sales force app in just ten days so the team could stay connected with channel partners.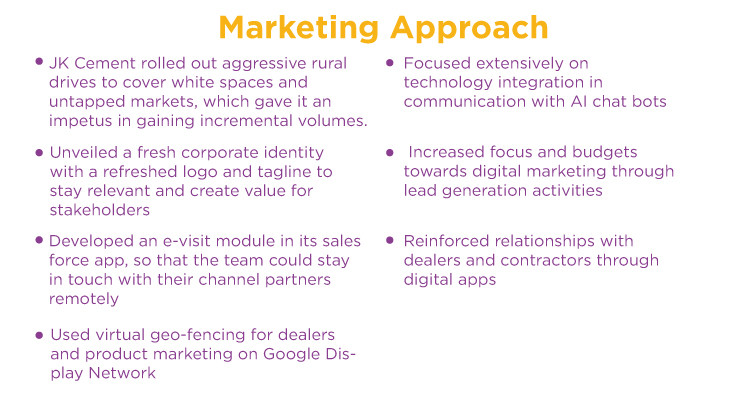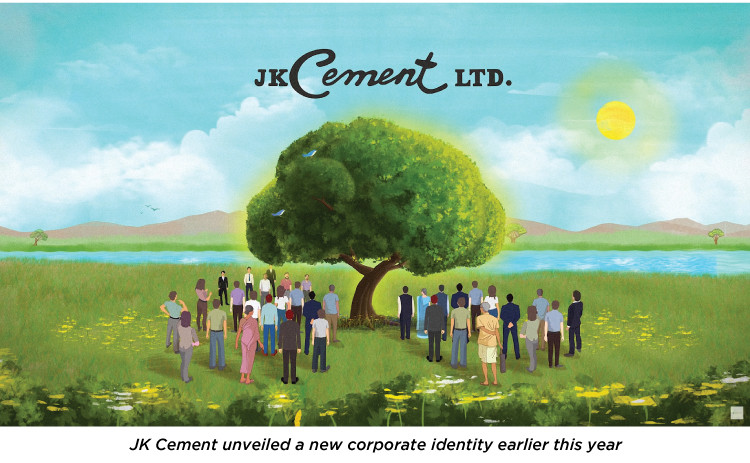 The Digital Bandwagon
JK Cement has focused extensively on technology integration in its communication efforts especially in customer service with the help of AI and chatbots. It has also upped its budgets toward digital marketing considerably through lead generation activities. "Our channel-friendly policies, employee support and transparent business practices have helped us to cope with the pandemic and emerge as one of the fastest growing cement companies in the country," asserts Singhania.
Way Forward
JK Cement is steadily enhancing its capacity, diversifying its range of products, ushering in advanced technology and quality assurance, while also expanding its presence nationally and internationally. "We will continue to reach out to various stakeholders at maximum touch points on Digital via data-driven promotion and collaboration initiatives," explains Singhania.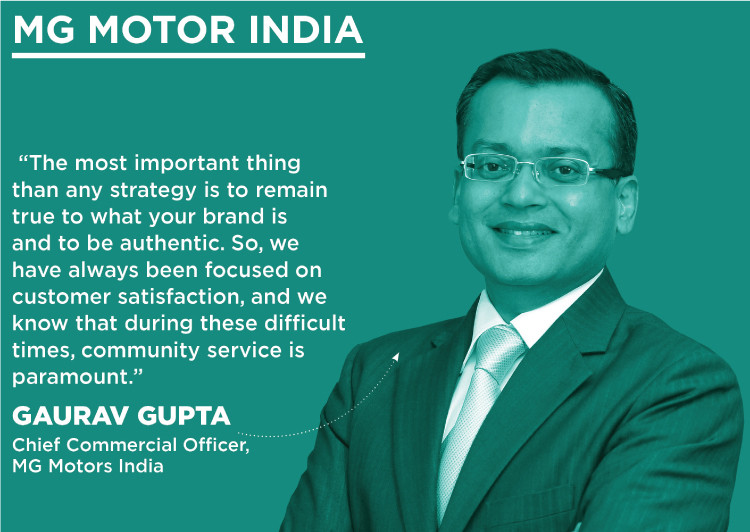 MG Motor, which arrived in the Indian market two years ago, identifies as a digital-first company. Given that the pandemic struck shortly after its entry into the competitive Indian market, the brand did see some challenges but Gaurav Gupta, Chief Commercial Officer, MG Motors India tells us how the company navigated these times by remaining steadfast to its core values. "The most important thing than any strategy is to remain core to what your brand is and to be authentic. So, we have always been focused on customer satisfaction, and we know that during these difficult times, community service is paramount," Gupta asserts.
The brand has been focused on customer satisfaction and rolled out various initiatives under MG Sewa. It has reached out to care for its employees, dealers and suppliers particularly during the second wave. The company has also built a female hostel for the security of women employees and has enabled oxygen manufacturing in one of its plants in Gujarat during the second wave.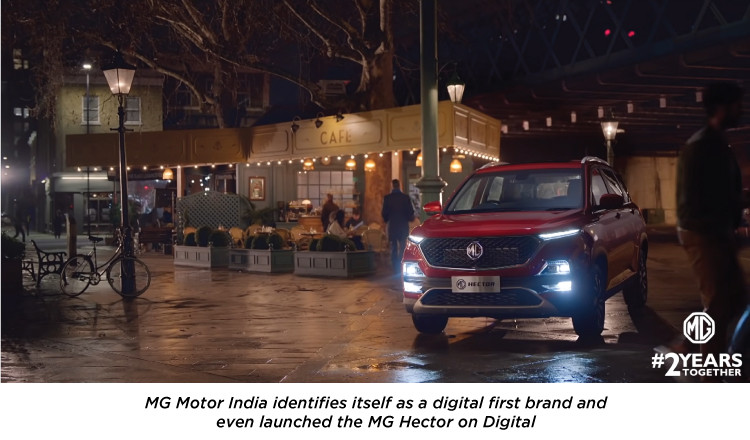 The Digital Bandwagon
Digital is a critical component in everything the brand does, Gupta explains. In fact, the launch of MG Hector took place on Digital. "On e-commerce, you can pay the entire amount for Hector through digital. And we have partnered with brands like Adobe and Cognizant, who have brought in together the entire package from a technical perspective. And I take great pride in saying this that in our company, we think digital first," remarks Gupta.
Way Forward
MG Motor is working on an electric vehicle battery, which can deliver up to 500 kilometres of range and will be focussing on electric vehicles in the future as well. Given that it operates in a highly competitive space, Gupta is clear that its legacy of innovation is MG Motor's differentiator. "We are happy to share that we have risen to top 10 in the country, although we play only in a very expensive sector. But we still have to do a lot more work in this area. Our goal is to make sure that we have happy customers. We also work on dealer success, which means dealer profitability. And we work on new technology in the automotive space, which is auto-tech," points out Gupta.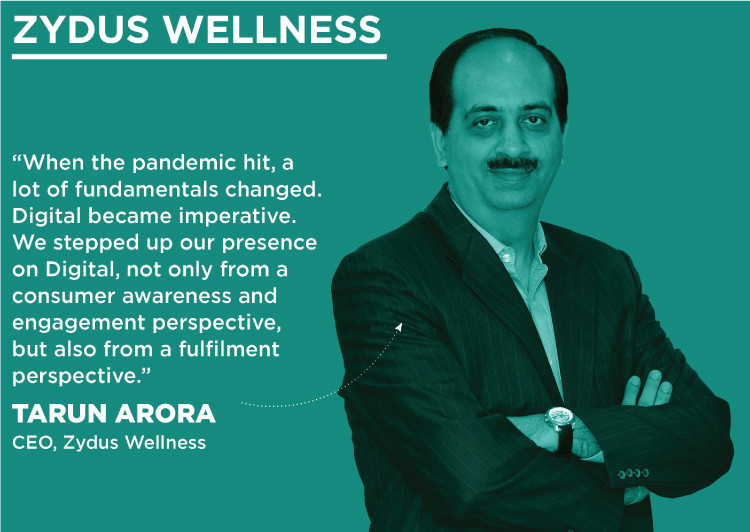 With the launch of its zero calorie replacement of sugar called Sugar Free, in 1988, Zydus Wellness began its journey as a consumer wellness company. Since then, the company has grown into a larger entity, spanning the entire wellness spectrum with seven brands – Sugarlite, Complan, Sugar Free, Glucon-D, Everyuth, Nycil and Nutralite.
The pandemic and the shift in consumer behaviour provided an opportunity for the brand to innovate, which is why Zydus Wellness saw as many as 10 new launches last year in the market. "When the pandemic hit, a lot of fundamentals changed, especially if I were to map it over the last 15-16 months. Digital became imperative. We stepped up our presence on digital and clearly focused on digital very aggressively, not only from a consumer awareness and engagement perspective, but also from a fulfilment perspective," explains Tarun Arora, CEO, Zydus Wellness. The new launches were also in response to shifting consumer concerns around health, safety and hygiene. The company also rolled out high decibel campaigns for some of its popular brands like Glucon-D, collaborating with actor Pankaj Tripathi.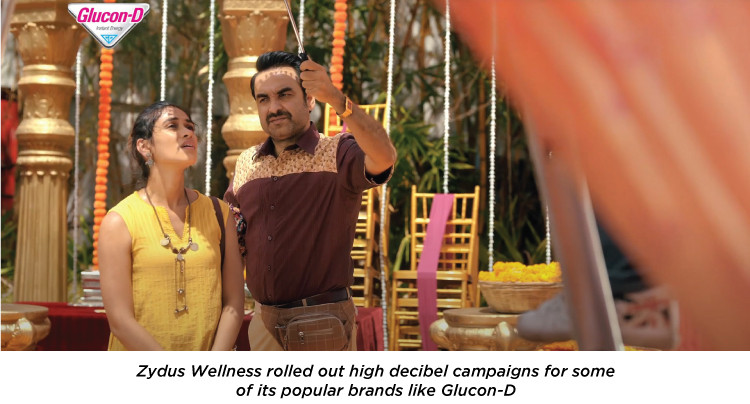 The Digital Bandwagon
Speaking about how Digital became the brand's central theme, Arora notes, "As a company, we have more than doubled our digital investments, but for some of our brands, it would be exponential because they are already very digital savvy. For example, a brand like Nutralite has been a 'digital first' brand. We spend more money on Digital than on conventional media," he adds. "We have also immersed ourselves in redoing our media mixes, where we have a fair amount of digital and impact buys," points out Arora. Zydus is also investing heavily on social media platforms to connect with the younger demographic.
Way Forward
The company will continue to focus on innovations, building around emerging categories and organic growth. The brand's strategy has not gone through any fundamental shift as it is clearly focused on the health and wellness space, along with personal care. It will launch new products and innovate depending on the consumer's needs, like it did through Nycil's hand sanitiser.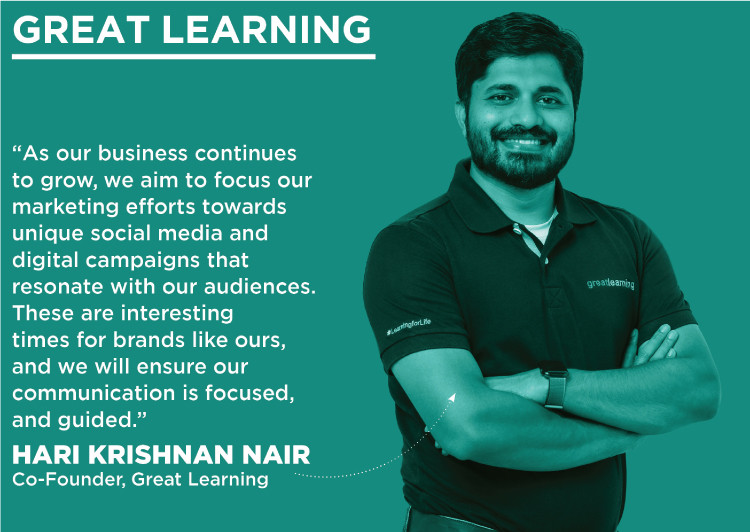 Great Learning is yet another example of an ed-tech company that thrived despite the challenges of the pandemic. "The pandemic has taught us that we are capable of doing much more than we ever imagined. Constraints exist mainly in the mind," observes Hari Krishnan Nair, Co-Founder, Great Learning. He adds that the pandemic also brought back the focus to what matters the most – family, health, goodwill, and the importance of staying focused on the present. "We have seen examples of many people overcoming various hurdles and making amazing transitions in this tough time, which has made our belief in offering lifelong learning even stronger," says Nair.
Great Learning launched its first TV campaign in August last year called 'Power Ahead' to amplify the importance of upskilling. The brand brought Virat Kohli on board as brand ambassador, and partnered with Dream11 IPL2020 as an associate sponsor on Disney+ Hotstar. The second leg of the 'Power Ahead' campaign was also aired on more than 80 channels across genres and languages. The company also unveiled a new logo that conveys what it stands for – cutting edge skills.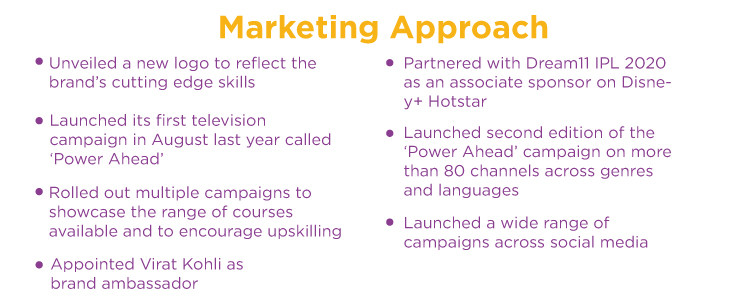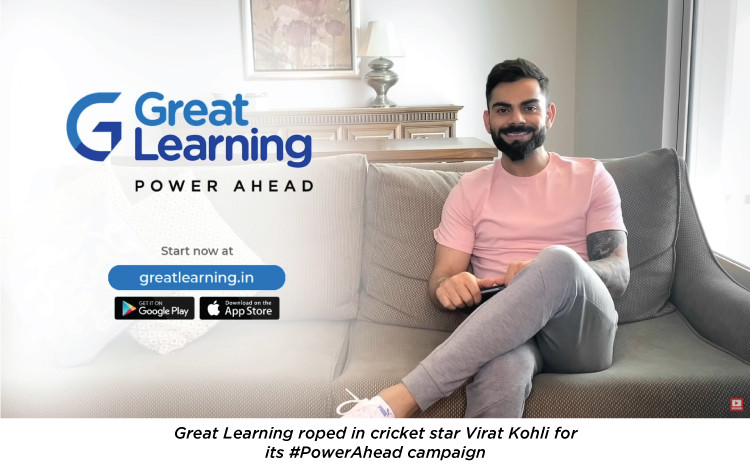 The Digital Bandwagon
In the past year, Great Learning's digital communications have always focused on authentically engaging with the audience. On the social media front, the brand emphasised on creating continuous opportunities for various groups of audiences from time to time. Recently the brand also rolled out the #NayeZamaaneKiDegree campaign on social media to improve awareness about the new age degree programmes offered through its platform.
Way Forward
"As our business continues to grow, we aim to focus our marketing efforts towards unique social media and digital campaigns that resonate with our audiences. These are interesting times for brands like ours, and we will ensure our communication is focused, and guided, going forward as well," says Nair.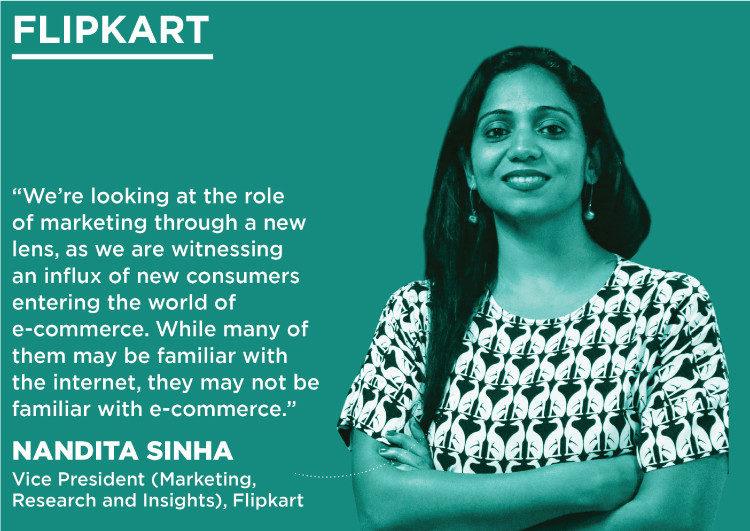 E-commerce brand, Flipkart has rolled out a series of campaigns and initiatives to support consumers during these times, especially those unfamiliar with e-commerce. "In the current scenario, we're looking at the role of marketing through a new lens, as we are witnessing an influx of new consumers entering the world of e-commerce as they shop safely from the comfort of their homes. While many of them may be familiar with the internet, they may not be familiar with e-commerce," points out Nandita Sinha, Vice President (Marketing, Research and Insights), Flipkart. She adds that during the pandemic, the platform has reached out to this consumer group, a set that has always been important to Flipkart. "Our inclusive approach to marketing, as we remain deeply connected to what consumers care about, is what has enabled us to make an impact," says Sinha. Grocery and COVID essentials became Flipkart's major focus, launching an initiative called 'Shop from Home' Days, with curated options across relevant categories. Another campaign launched by the brand was the 'Aao Phir Pakde Raftaar' campaign (celebrating its seller community). The brand also explored new marketing formats with Flipkart Video Originals such as 'Entertainer No. 1' and 'Bid and Win'.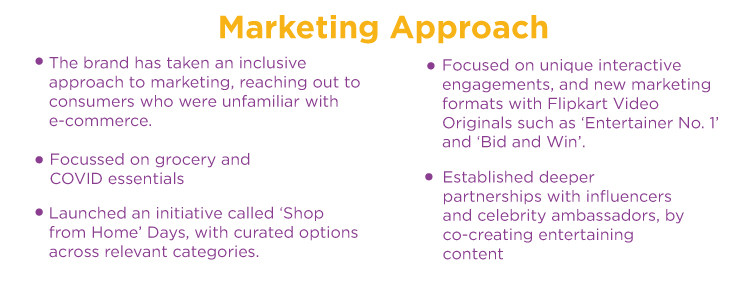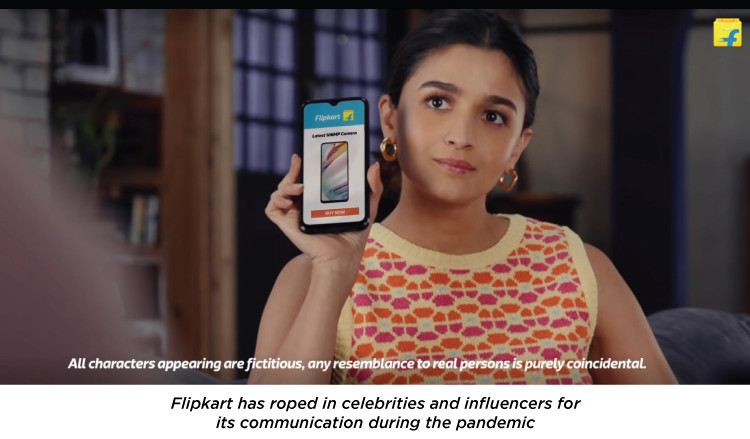 The Digital Bandwagon
The brand has doubled its investments across digital platforms, while establishing deeper partnerships with various influencers and celebrity ambassadors, co-creating entertaining content. Sinha adds that Flipkart has also engaged with several regional influencers and content creators who connect with region-specific audiences. The brand has evolved its media mix, including expansion of regional presence on traditional media in addition to online applications, while garnering deeper collaborations with partners across the ecosystem.
Way Forward
Flipkart's marketing approach will continue to hinge on keeping the confidence of the entire ecosystem ignited, while showcasing the value that the brand brings. It also looks to deepen its relationship with customers through hyper-personalised experiences across various touch points. In addition, Sinha adds that Flipkart will strengthen its narrative in addressing consumers who are not familiar with e-commerce.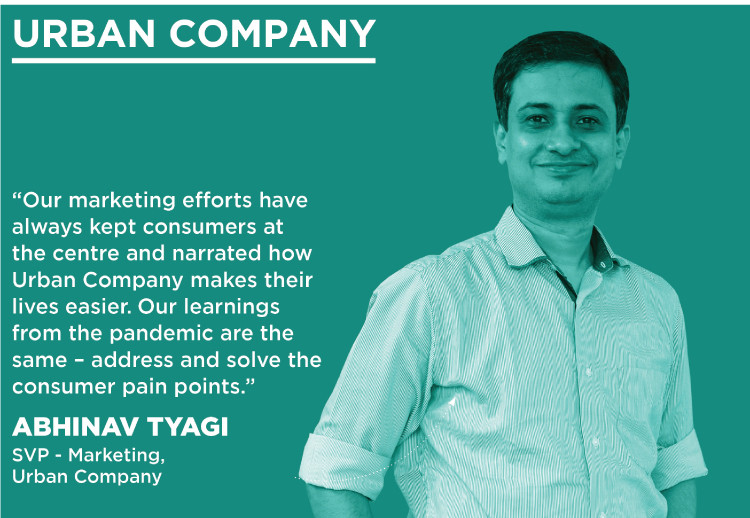 Urban Company (formerly UrbanClap) has reimagined its services of beauty and spa at home, cleaning, plumbing, carpentry, painting etc. during the pandemic. Speaking about the shifts in marketing, Abhinav Tyagi, SVP - Marketing, Urban Company says, "We are reaching our target audience through a mix of traditional and digital mediums." The brand currently is running campaigns for its salon business as well as for other offerings like home cleaning. "We launched campaigns to build communication on our safety protocols, the new changes introduced and how the Urban Company experience has been reimagined for safe and hygienic services," he explains, adding that the brand has focused on enhancing safety and hygiene in its offerings. The focus of the campaigns were on communicating the ease of using Urban Company (UC) to save time and make life more comfortable.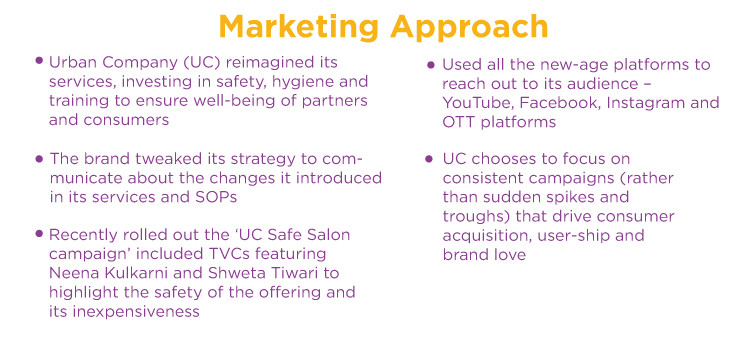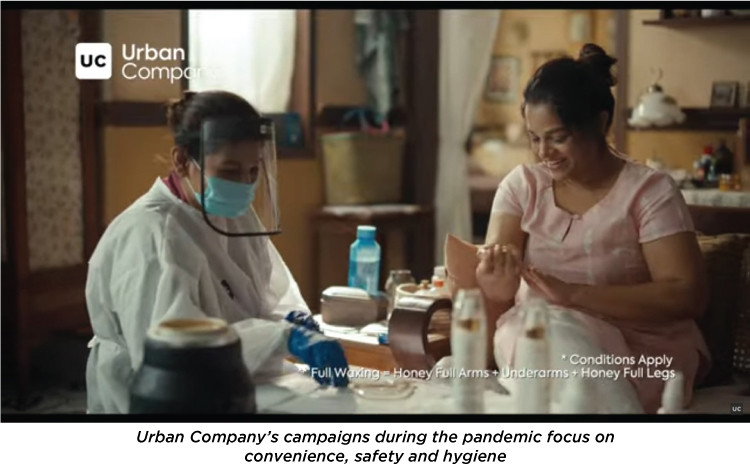 The Digital Bandwagon
In terms of marketing channels, the brand has been focussing on digital platforms for marketing campaigns which has been constant throughout the pandemic as well. The brand uses all the new-age platforms to reach out to its audience – YouTube, Facebook, Instagram and OTT platforms. Speaking about the shift in media mix, Tyagi says, "We continue to always look for new, meaningful and scalable mediums to interact with our consumers – and digital platforms provide a great avenue to experiment, interact and create dialogues. Further, we have collaborated with leading influencers and well-known faces to create snackable content and obtain maximum visibility." UC saw categories such as men's grooming grow six-fold since pre-COVID levels, while massage services grew by 250%.
Way Forward
"Our marketing efforts have always kept consumers at the centre and narrated how Urban Company makes their lives easier. Our learnings from the pandemic are the same – address and solve the consumer pain points. Also, we are a frugal company and we prefer to focus on consistent campaigns (rather than sudden spikes and troughs) that drive consumer acquisition, usership and brand love, Tyagi states.