IMPACT presents the admakers behind ten most memorable ads from the year gone by and who we think will do wonders in 2022
Every year some heroes are created in the advertising business. Some shine for the sheer novelty they bring to the ad industry, others for driving the brand's message through humour or emotional connect. The pathbreaking ideas by these creative geniuses make the audience sit up and take notice of not just their work but also the brand. Year after year, IMPACT has chosen the most memorable ads from the year gone by and interviewed the ad makers who have contributed in bringing it the popularity it earned and rightly deserved. Some of these ads have gone viral while some have brought home a strong sense of nostalgia with a twist. We present to you the Creative Stars of the ad world whose work has set new standards for the industry, done wonders for the brand, and who we need to watch out for in 2022 as well.



'Bhima ad was a utopian story presented authentically'
"In India everyone collects jewellery for their kids, it is not only a gift but a sign of acceptance. The client (Gayatri and Navya Suhas), who was doing his first project with us, wanted us to create an evocative ad to represent the transgender community, as the market they operate in—Kerala is ahead of other states as far as trans rights are concerned. So, we thought why not link the action of gifting jewellery in different stages of her journey as a sign of the parents' acceptance of their child's coming out and the culmination of it in her marriage.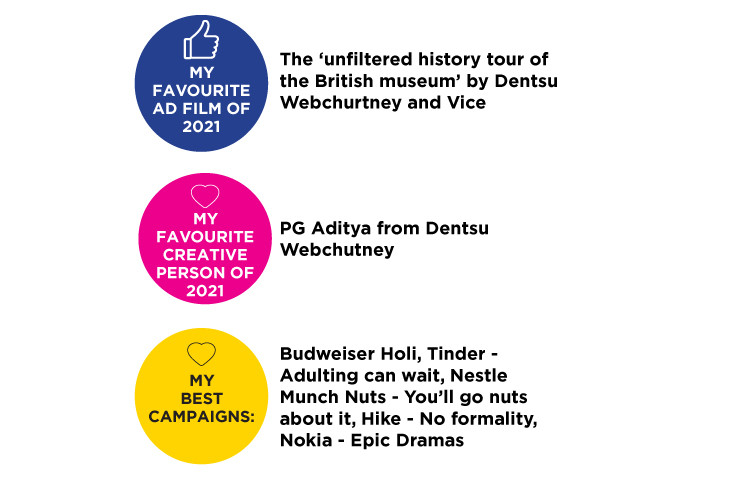 Sheetal Raghav, a creative Director at Animal, and I worked on this campaign. The insights, the situations, the scripting, basically everything, came about as a result of our many chats on it. We were very clear that if we were to pick this subject, we would have to portray it purely and go the full distance and yet there was the possibility of communication being engulfed in negativity on its release, but we personally had only one goal, that we must not alienate the LGBTQA community in any way, because that would defeat its purpose. We were okay with flak from any other quarter except them. And when the ad was out, we felt we had passed the litmus test because many people from the LGBTQA community shared the ad.
Even during the shoot of the ad, we felt for anyone from the transgender community to be depicting that role could be fraught with trauma because you have to relive your own journey in a way through the scenes. A lot of people did not want to go back to it, after all why should you make yourself suffer the many indignities that you went through once and which have taken a long time to heal. But Meera Singhania Rehani, our lead character was so brave, the filmmaker Bharat was very particular that he wanted to make her look as close to how she appeared before her transition. So, when she looked at herself in the mirror, you could feel that she was fidgety and wasn't comfortable in her skin, like she was reliving the old experiences. As the story progressed, and the transition happened, this incredible person emerged, you could see the confidence. How the person just shakes off all the discomfort of not feeling right with oneself and just comes into her own. The transition happened in front of our eyes and it was really powerful.
What we wanted to do was to tell a utopian story, but in an authentic manner, I know they are clashing concepts. In real life and in popular culture the way the transition is depicted seems traumatic, we thought of course it is a difficult journey, but it does not have to be so traumatic and we tried to depict that in the film. Sometimes when you see it on the screen it seems achievable in real life too."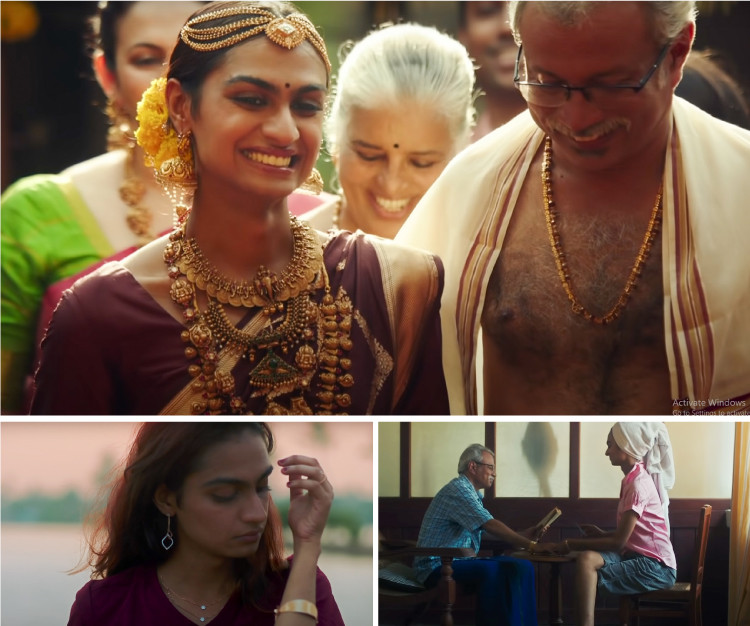 About me
I have 20 years of experience in advertising, during which I have worked for a shockingly small number of agencies including DDB Mudra and JWT. The latter being my last port of call before joining my ex Art partner, Kunel, at Animal as a Senior Partner. During my career I have worked as creative director, writer and proof-checker on accounts like Budweiser, CRED, Philips, HBO, Unicef, Airtel, Nokia, Microsoft, Kitkat, Munch, Milkybar, Hike, Jeevansaathi, Engage Deos, Times of India, Boost, and Tinder.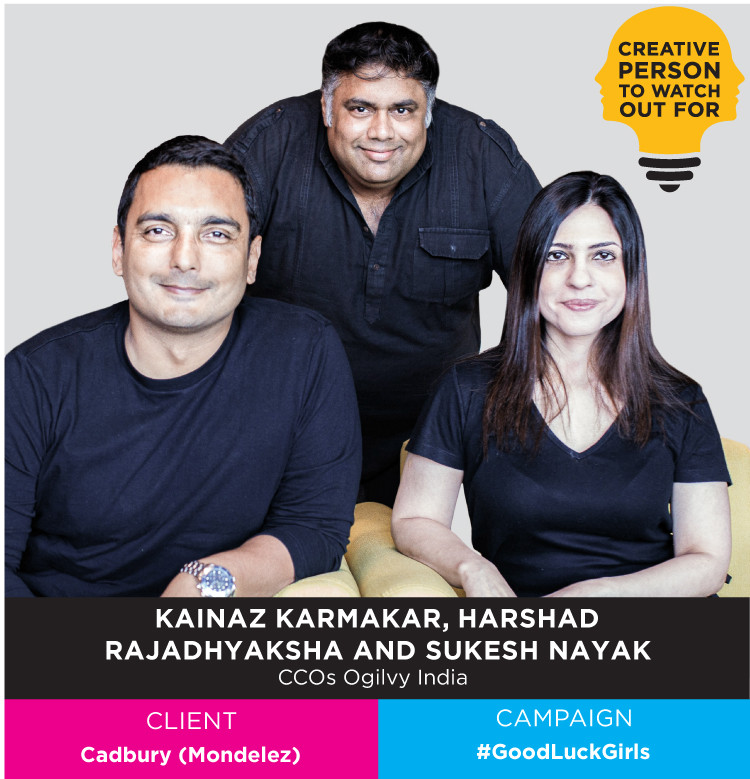 'We knew it was an idea whose time has come'
Q] The #GoodLuckGirls ad campaign is the most loved one from 2021 by people from all walks of life, were you all on the same page as far as conceptualisation of this ad is concerned?
Sukesh: One thousand percent in sync. In fact, all of us, including Piyush, were on the same page from the day we heard the idea from the team. We all knew this is an idea whose time has come and it must be done.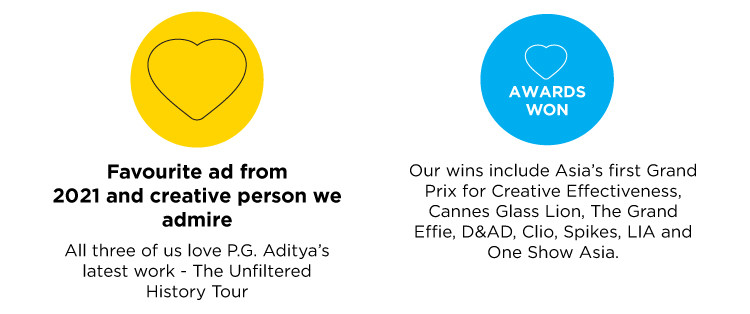 What weighed on you more, the pressure of recreating a masterpiece or the thrill of creating something for the new age?
Kainaz: When we reimagine an iconic piece it will always come with the stress of being rejected. So, the pressure was very real but it was the good kind of pressure. Plus, we had a fabulous partner in Bob from Good Morning Films so we knew that no effort would be spared.
What was the client's advice to you, what kind of role did they play in the making of this ad?
Sukesh: "This is a fabulous idea, an idea that must be done. Be brave and have fun." --these were the exact words of Anil Viswanathan and the Mondelez team. And that encouraged us to move ahead and execute this fearlessly.
What was the most exciting part about shooting this ad?
Sukesh: Casting for the ad and then recreating the epic dance. I think these two were the most exciting parts.
What kind of impact do you feel it has had on the masses?
Harshad: The love received by #GoodLuckGirls was beyond what we could have asked for. Our families started receiving it in their WhatsApp groups within hours of its release. Young kids were posting and reposting it. Social media pages were picking it up organically and sharing it with pride. It was truly satisfying to see the response.
Any interesting anecdotes from the sets, or behind the scenes story?
Kainaz: The day Sukesh was at the shoot was the day Bob was shooting the last romantic shot between the boy and the girl. It seems the boy kept blushing every time they shared the chocolate and strangely that was the shot the needed the maximum takes, not the dance!.
The best comment you have received for the campaign?
Harshad: Someone sent us a picture of a Cadbury Dairy Milk they had just bought with a message - saw your ad and got this! Nothing can beat that sweet compliment.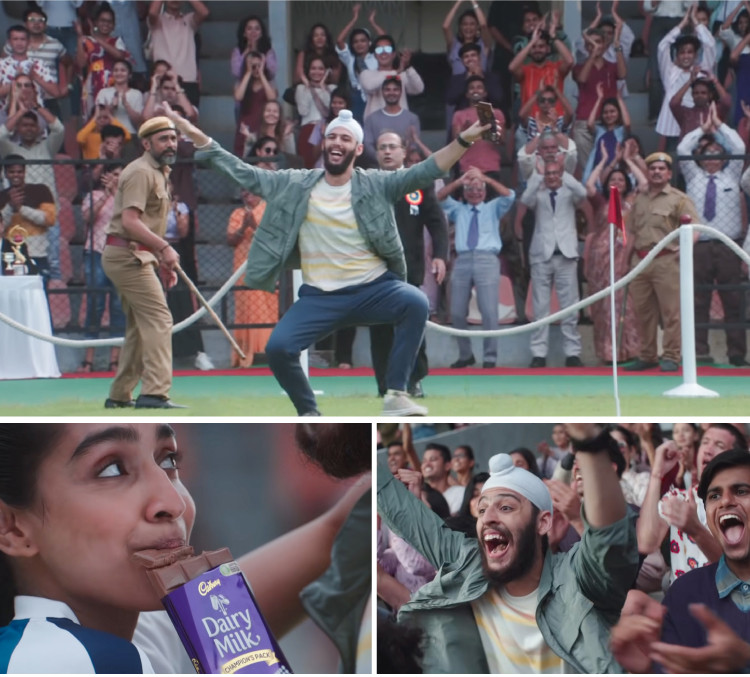 About the Ogilvy Trio

We are the Chief Creative Directors of Ogilvy India, custodians of some of the biggest Indian and global brands, we enjoy advertising and that can be seen in what we create. Be it beautiful storytelling or tech innovations, all our work has a lot of heart in it. Mondelez, ITC, Unilever, Bajaj, Coca Cola are just some of our brands whose work has brought in national and international recognition for the agency and the client. We have a Whatsapp group whose name we will never disclose to anyone.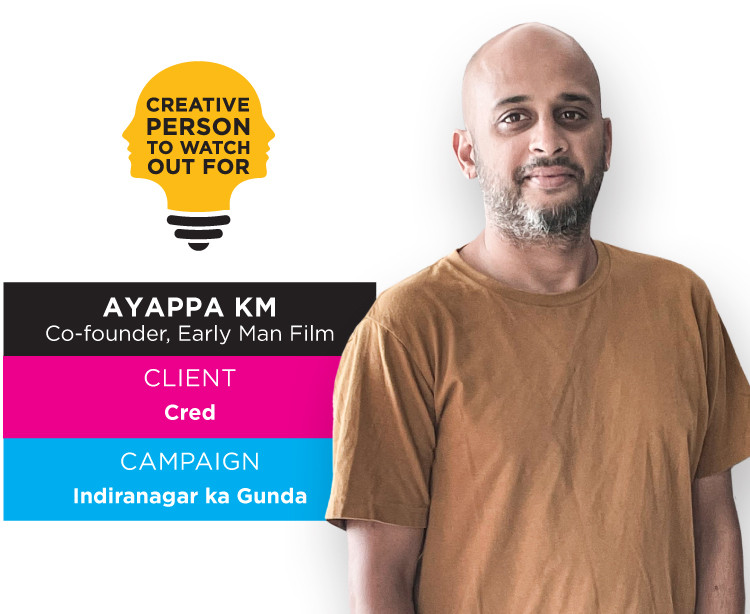 'I have hated celebrity led advertising, except in
Cred's case'
"I have always hated celebrity led advertising, I wouldn't touch it with a bargepole given a chance, and never have. But Cred was different, for the first series it had celebrities desperate to audition for a Cred ad with ridiculous songs in it and the second one had an 'angry' Rahul Dravid, the idea seemed refreshing to me as opposed to shoving something in their hands and making them say good things about the brand and the whole world dying of boredom. It seemed like a different genre, unlike what we culturally do in India. I personally like making fun of other people and vice versa. And for the ad, Tanmay and team came up with 50-60 jokes from which we chose the funniest 10, for the 12 second long Dravid part.



Kunal Shah, our client gave us a lot of space despite the fact that it is not a safe ad at all.
It was very scary because everybody knew Rahul Dravid can't act. I always insist on rehearsals before going for the shoot, because I like to prep my actors, more so in this case. But Dravid couldn't make it. I met him literally half an hour before the shoot. And so, I sat inside the vanity van with him and unfortunately Tanmay who manages to break the ice well (because I feel most celebrities try to impress him to sound cool), was also late. So, I told Dravid about the idea and acted out three lines, and later while shooting I was so surprised that he just imitated me blindly. His first take was on-point. I told him that you are having a fight and started shouting at him from one side, he was so shocked that he started screaming back, everybody started laughing and his confidence also rose from there. Dravid was so shy and well behaved that he would profusely apologize even if a word like 'shit' came out of his mouth. Slowly his energy started waning, after all for how long can you keep screaming in the middle of traffic, so we technically had shot the film in Mumbai in two hours. Next thing we know is that we are trending on twitter. Soon after Dravid met Kunal and said, "Please tell Ayappa and Tanmay that initially I was not sure how it would turn out but it looks good."
I never take selfies with stars but my mom wanted one with Dravid so I took one with him which made her very proud. She even put it as her Whatsapp display picture and sent it to the family Whatsapp group and now I am well respected there.
I know in the industry, there were people who questioned our approach for the Cred ad saying advertising is not just a joke, quoting Philip Kotler and the old marketing rulebook, how advertising must help a brand in the long term. Not sure if it scared them a little bit. But I feel anything that makes you better, creates jealousy and insecurity is great for the system. Also, overall as far as the client is concerned, it was just very refreshing to see fearlessness and complete faith in what we were doing.
And I just wish there was more work like Cred which makes that big statement for advertising in an era where everyone is taking things so seriously and where brands are being built or destroyed with something as simple as a twitter post, so it appears like everything must be politically correct, but everything doesn't need to have been done before. It doesn't need to make you comfortable. It should disturb you a little bit, just as how hopefully Cred has disturbed a lot of people."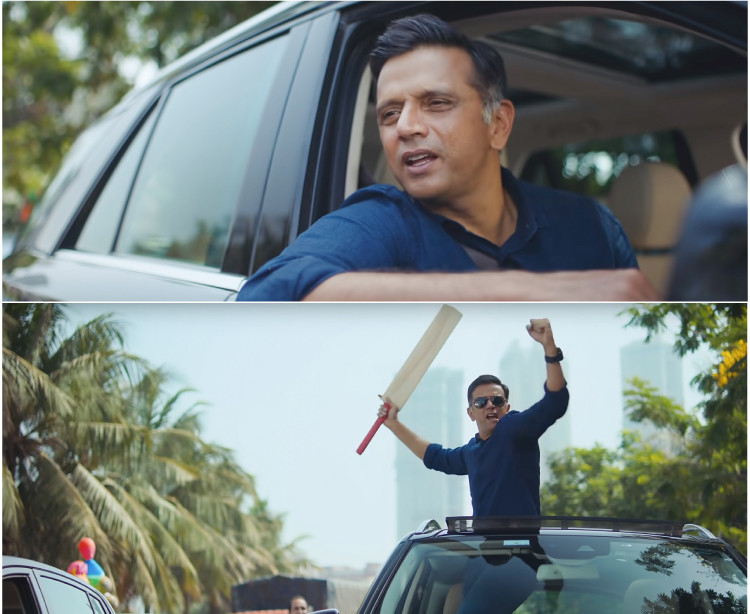 About me

I direct commercials documentaries and television series. My work has been highly awarded at both Indian and international festivals including Cannes and D&AD. Known for my offbeat directing style and unusual casting, I am currently a partner at Earlyman film, Mumbai.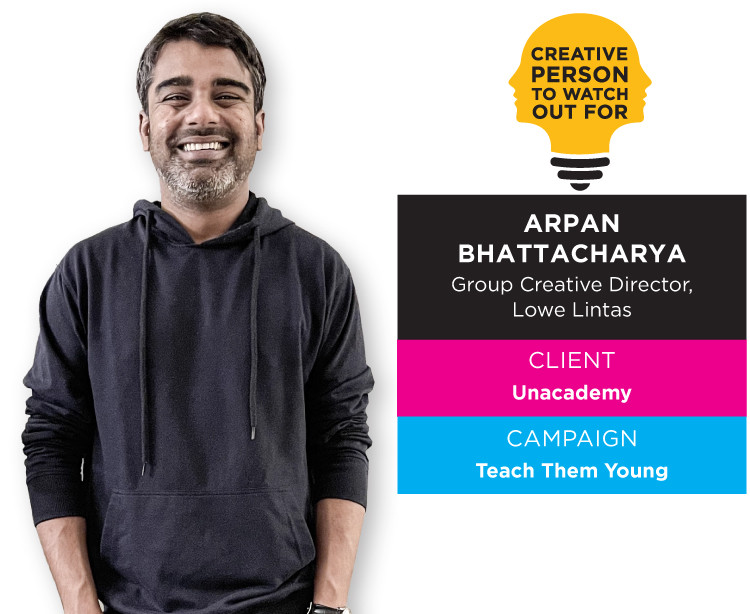 'The comments from the trolls was an absolute vindication'
"This was one of those lucky coincidences where the client gave us a very open brief and said, we just want to do something on women empowerment for Women's Day. We thought of looking at it from a different point of view ---who are the people who have a problem with women empowerment--- and the answer smacked us in the face. Sadly, it's the men, there is this very macho need to protect women often couched as I'm protecting my sister, my mother or my wife. There is an inherent sexism in that itself, in fact the concept of Rakshabandhan also preaches the same. So, we thought, why not attack that? Being an education brand, we needed a connection to learning, so we considered talking about teaching young kids at an age where they are impressionable. I shared it with my boss, Puneet who loved it instantly. When we presented it to the client, we went with just one idea as we were very confident of it making an impact.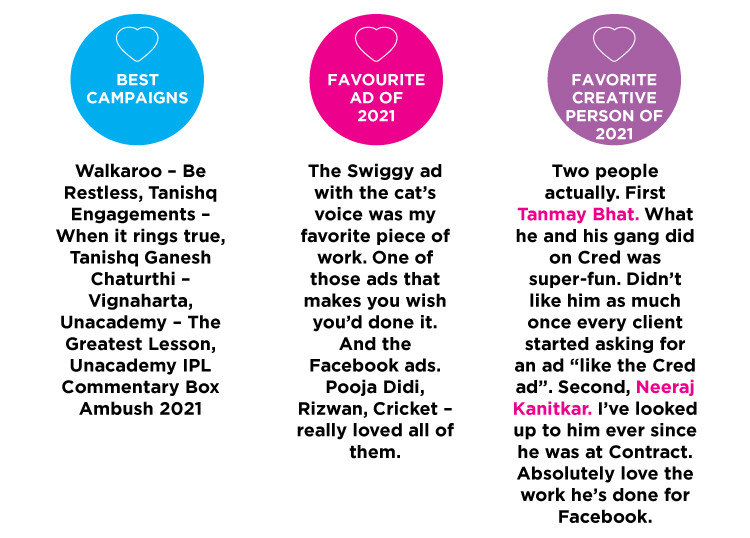 And as far as the client is concerned, the discomfort that they felt when they heard the script helped sell it to them even more. This may be an uncomfortable subject, but is so real. Everyone just jumped on board immediately. We had quite a gutsy client, and to be fair, they didn't really think-- what if we get trolled, what will people say?
The script was written keeping in mind Adil Hussain, and almost presented it like that to the client at the initial stage and thus getting him onboard was a casting coup. One very interesting thing he said while going through the script on the sets is that it is lovely that there is no mother in this story. Because it's almost like a lesson from the father to the son, as in this is something that a grown man is teaching a young boy, that this is not what being a man means. Also, we had an absolutely fantastic director, Sharat who knocked it out of the park. When he read the script, the longest discussion that we had on was about whether the entire conversation should be happening sitting on the sofa, or the way it's right now-- in the kitchen. And he added that bit to the screenplay of it.
But being a Women's Day ad, we all expected it to die down post the 10th, that's usually the lifespan of these ads because there's a lot of advertising that happens around that time. But a month later Hrithik Roshan commented on it and Priyanka Chopra posted it on Twitter. Some of the most interesting comments to be honest were from the trolls which was an absolute vindication. They started saying, "How can you tell me not to protect my sister? Who are you to tell me?" Again, it's one of those rare times where we laughed at it, said you are exactly who we wrote the ad for, buddy."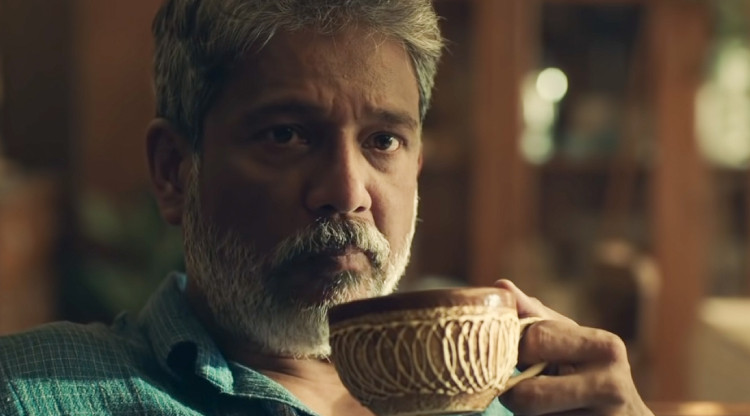 About me

In a career spanning 12 years, I have worked at Lowe Lintas, Contract Advertising etc. I have worked on campaigns like Domino's, Jockey, Acer laptops, Flipkart, Tanishq, Britannia, Walkaroo, the MPL launch, TVS, and Unacademy.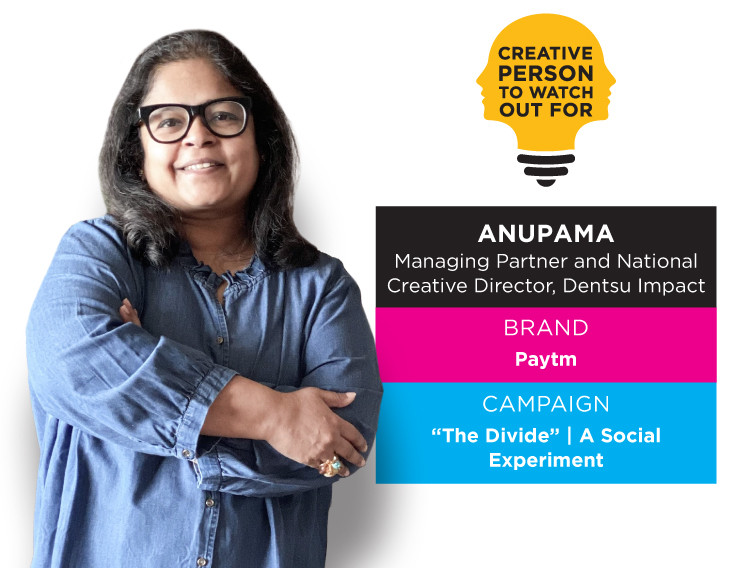 'We touched something never talked about before – Finance & Women'
"I have always had a financial bent through my growing up years. Once I had gone to buy a plot and met a broker. I explained to him the monetary aspects involved. He listened to me patiently for about a good five minutes, and then in a simple line added, "Ma'am, bring an elder person with you tomorrow." He didn't literally mean someone 'elder' he meant a 'man' because he was uncomfortable talking money with me. A few years later, a man from an insurance company visited me. After preliminary conversations, when I asked him to get to the topic of discussing investment opportunities, he came back with a blunt question, "Your husband won't join us." So, in this country, unfortunately it is assumed that money matters are going to be a man's domain. The reason, I think, is somewhere women also assume that it's okay to work hard and earn money, but the money must be put in the safe custody of the father, husband or brother to invest. I started to do my research and this marked the beginning of the campaign for Paytm.



The client, Paytm digital head Nitish Saxena, asked me if we had plans to do something interesting on the occasion of Women's Day — it could be a film, or an activation. I narrated these incidents to him, stating that financial literacy rates are not satisfactory and people don't really talk about such an important matter. As I shared my thoughts with him, he asked if I could bring in some more instances like these, sharing experiences of other people. I approached several CMOs and CEOs, seeking to know how they manage their investments. I asked all sorts of questions about finances. This survey of mine betrayed a trend — women who are doing very well for themselves, holding important positions in big companies suffer from lack of confidence when it comes to managing their personal finances. They are inclined to depend on male members of the family with an inherent belief that men have all the information in this regard and they be talked to. So, when we designed the campaign we knew we had something good, but never thought it would become so popular.
The advertisement sparked off a healthy debate. As far as the making is concerned, we took the people featured in the ad completely by surprise. I wrote all the 30 questions that I asked in the ad campaign. I had earlier asked them to Ruchi Narain, my director. She, too, didn't have answers to most of them and inferred, "I thought I'm empowered. I'm progressive. But, here I stand, not having answers to most of these questions. And, I should know."
Once the ad was released, I got innumerable comments of appreciation. Women from well-to-do households agreed that the ad was such a reality-check. The ad transgressed the boundaries of competition, criticism by opposing brands and forced them to shed their loyalties and accept that the campaign was needed. The Cred CEO took to Twitter to praise us for the 'fantastic job'. We showcased something which has never been talked about — linking finance and women.
The issue is not about men respecting women; it is about the need for women to be confident. The campaign was not about highlighting how men look down upon women when it comes to finances. It is about stimulating self-realization."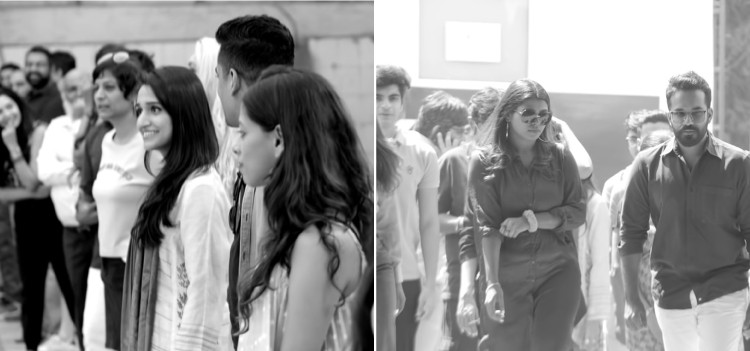 About me

A movie buff fluent in many languages, a traveller who loves to see many new places, I am currently the National Creative Director at Dentsu Impact, Delhi. I am leading teams on the prestigious account of Maruti Suzuki. Prior to that I have worked in a number of agencies like Cheil India, JWT, Draft FCB, Rediffusion Y&R, Euro RSCG and Lowe's.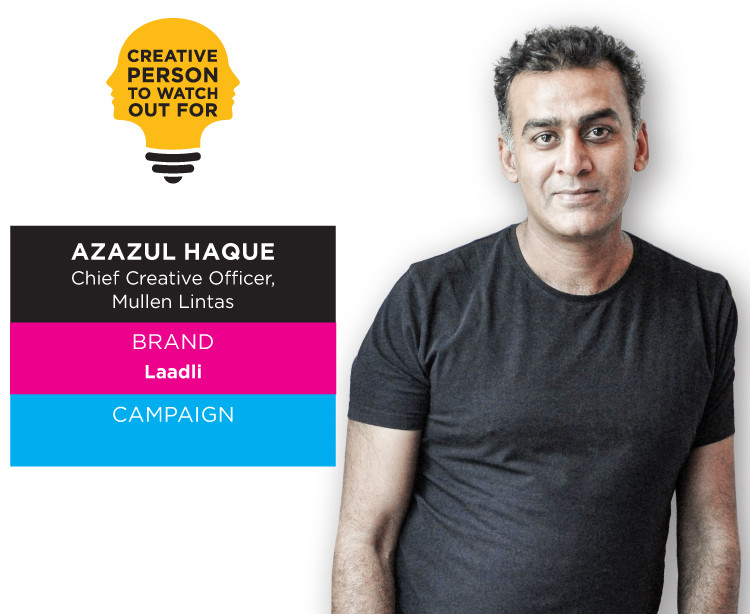 'Someone told me this campaign is so non-advertising'
"For me the information that sexual harassment can happen in a work-from-home environment was extremely shocking and equally disgusting as it just reflects the sick mentality of certain people. But we didn't want to show the negativity as the pandemic world was as it is engulfed in pessimism. We wanted to show hope and tell stories of people who are bringing a positive change in someone's life and just how simple that can be. For example, how we depicted it in the Laadli WFH film, just reappearing in the virtual call to support the girl who was being harassed. In times when people were losing jobs, having someone stand by you so that you can fight for what's right became extremely motivating. So, the idea of the campaign was hope and through it we were urging people to rekindle hope that most of us had lost during the pandemic.
I first shared this idea with Amjad who was heading Mullen Delhi then. He instantly loved it and agreed that we need to instil hope through this campaign. The client was team Laadli and UNFPA led by Dr Shaarda. In fact everyone loved the idea of spreading positivity even as we show the stark reality through the film. It was like seeing a story of a hopeless world and then a ray of light comes at the end as a pleasant surprise.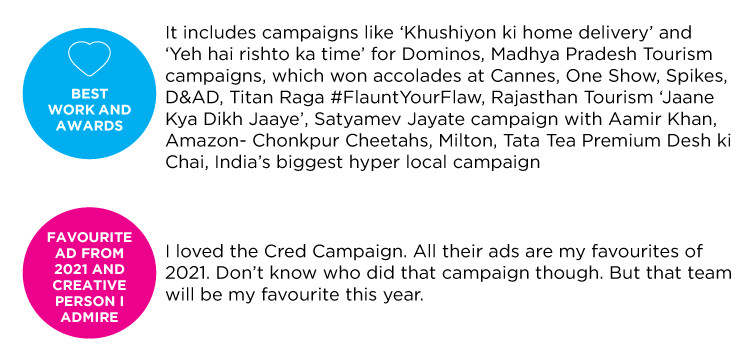 But even after the idea got everyone's nod, I knew the biggest challenge will be its execution. As it's a very sensitive subject, a half measure or more theatrics might have made the films look fake. But Altamash Jaleel did a fabulous job as a director and after I saw the film, I was sure it's delivering what it should.
We were shooting this in the pandemic amidst the lockdown. So, I attended shoots on zoom. Collaborating with the director over a zoom call while live performances were happening on such a sensitive subject was both challenging and exciting. The person who plays the role of the boss, and makes all of us hate him, is actually a thorough Gentleman. But while shooting I literally found him to be disgusting. He really did a great job as an actor. And in the end, the ad did deliver the message the way we expected it to. People got shocked by the information just how I was stunned when I first heard about such a thing. They shared it to spread awareness about the subject. To me that was job done. Someone told me this campaign is so non-advertising. That was a huge compliment, I felt."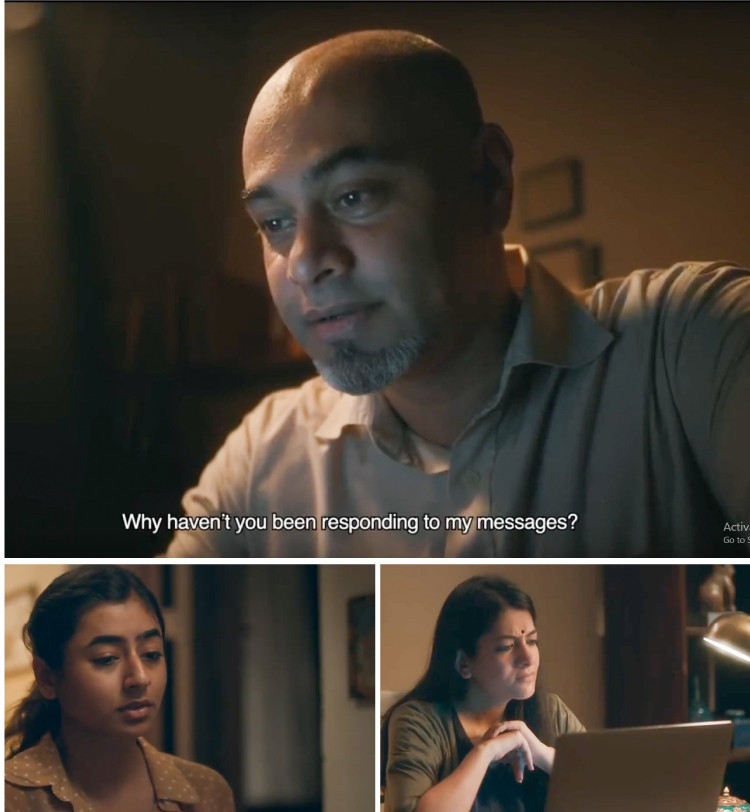 About me
I started my career with Lintas Group back in 2001. Since then, I have worked with Bates, Publicis, Lowe, Mudra, McCann and Contract on Brands like Nescafe, Coke, Nestle Maggi, Domino's Pizza, Dabur, Maruti Suzuki,Havells ICICI Bank, Bajaj automobiles, Star Plus, Milton, MP Tourism and Rajasthan Tourism.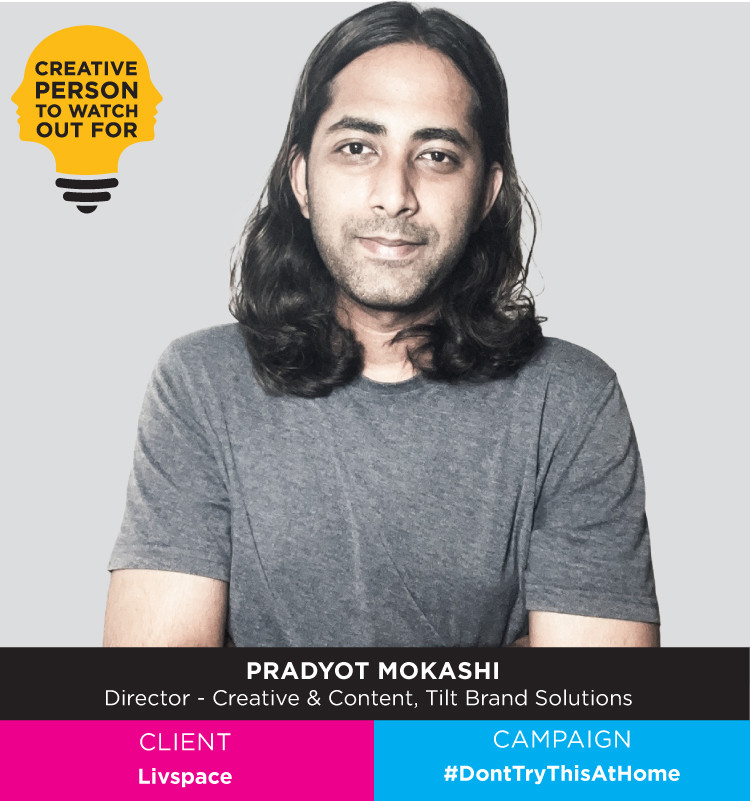 'We used professionals to do the stunts in the ad'
"We've been working with Livspace for a little more than a year before we came up with this campaign. A common belief is that when it comes to home interiors, people just think about good looks. As a reference, they show the designs of good cabinets from the internet to their contractors, who, in turn, instruct carpenters to make a replica of any piece of furniture shown in the picture.
Livspace, as a brand, offers a more holistic solution. The designers not only ideate fascinating interiors but also make each component functionally efficient. Ahead of the campaign, 'don't try this at home', our client came to us with a suggestion that they want to "move away from just talking about the unorganized sector and highlight the functional benefits we can provide."



Internally, we have a fairly democratic system. The creative team sits down and all the members hash out their ideas. The one that is accepted by all is the idea we pursue. In one such ideation session I brought to fore a personal insight. At home, because I'm really tall, all tasks related to storing objects in overhead cabinets and loft are assigned to me. So, the first thing that came to my mind was someone was rock climbing his way up the wardrobe to open the topmost shelf. It cracked up the team and we continued to build on to that idea.
The insight was essentially that homes should work for you and not otherwise. Then we found the creative brief that people are pulling stunts to just work around the bad room-interiors that they have. It especially is a big problem for people who have migrated to Mumbai's matchbox sized apartments leaving their spacious homes in other cities for professional reasons. I spoke to many such people on the problems they face. A comment like: "My wardrobe just doesn't open. I have to literally push it a lot. It's like a tug of war, I have to kick and punch my drawers and doors shut because the hinges have come off," served as the insight. We tried 30-40 situations and asked people what they could relate to the most out of which we zeroed in on the final five. We went on to use professional stunt artists, i.e. the guy who does rock climbing in the film is a professional rock climber, and the lady who stuffs herself into the wardrobe is actually a contortionist.
The idea clicked with the client almost instantly. But it went through close scrutiny to get the situation right. After the campaign was released, we heard from so many people how they could relate to the situation. I received was a tweet during the early days of the campaign, which read, "It's a great insight. And there's a great balance between the insight and the entertainment." That's something I have struggled to create, because either the information overload takes away the creativity or the creativity overshadows the brand. So, that way we could find the balance and someone noticing and appreciating that was something I took back."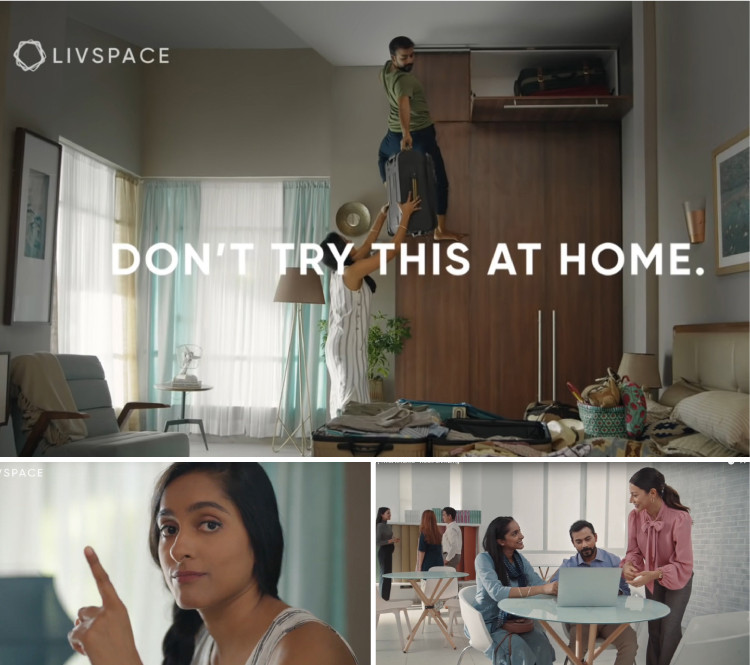 About me
In 2015, I left my job in the field of defence and space research to pursue a career in writing. Since then, I've written across multiple formats and mediums such as advertising, digital content, and TV. My favourite part of the writing process is problem solving using the creative craft as my tools.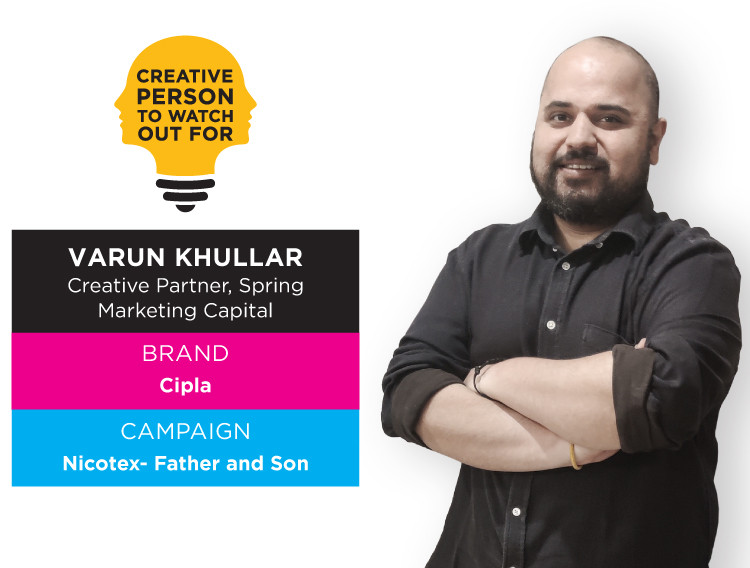 'My dad quit smoking when I was born, we used that insight in Nicotex ad'
"We have been working with Nicotex since the past couple of years now. 'We believe you can' was a campaign where we wanted to deliver the message from a smoker's point of view and not pester them saying, "Hey man, just quit." Being a smoker, I know that it becomes very irritating when someone comes and pesters me to quit smoking.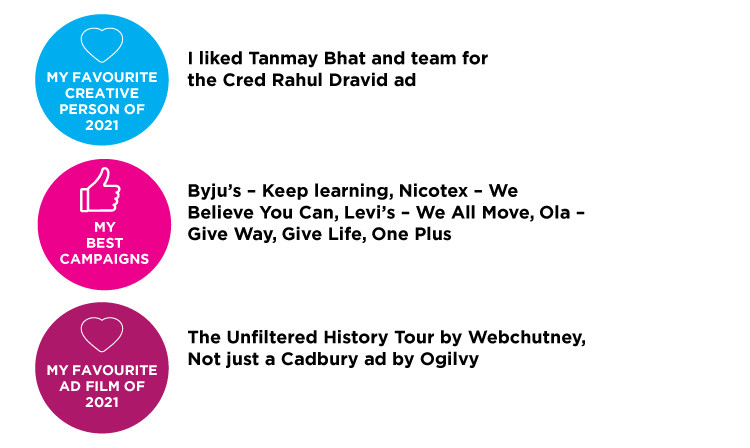 With this particular ad film, we wanted the conversation between the father and son to be more mature. So, when father sees his son smoke, he expresses his thoughts in a much more responsible way. Instead of, "Hey, I caught you with your smokes, you're grounded." The father's character is more like a friend and he understands the situation because he was a smoker himself. For example, my dad once in a while tells me --it's not good for you, you should cut down—but my mom always screams --I can smell cigarettes, you have to quit now. Also, when I go out of my house for a smoke, my parents are aware of it. That was one aspect we brought alive through the ad film. The idea was to make the conversation friendly and mature. In the previous campaign, there was a line 'Yeh ek din hoga magar ek din mein nahi hoga' which clicked. Similarly, we tried to end this ad film with another simple line that hopefully people will remember, 'Tune meri chudwayi, isliye mai teri chudwaaunga.'
The process of finalizing the idea was very interesting. After a lot of brainstorming, we zeroed down on an idea that a caregiver from somebody's life can deliver the message. So, we started exploring the relationships and their impact on a person's life. That's how I remembered instinctively that my dad quit smoking because of me and used that as the plot. We were asked to make a 15 seconds long film, we touched 25 but the client loved it anyway. The shoot was simple but we had two good actors- Jatin (father) and Bhuvan (son) who did a fantastic job. Our approach was to get the thought and the emotions behind it right. For example, when the son comes out, and his father says "Pata hai jab mein pita tha, tab 5 rupees ki hoti thi," there is this subtle emotion where he hides the cigarette behind him, but he doesn't run away or throw it as a reflex because he is aware that his dad knows that he smokes. It's just an action out of respect that I'm not going to smoke or light up a cigarette in front of my dad.
The ad film won awards at multiple events. We received a great response after the campaign was released which we didn't expect. The amount of calls, messages and wishes suddenly came through, many of them from top level executives. Arun
Iyer called to tell me, "Nicotex ne toh aag pakad lia."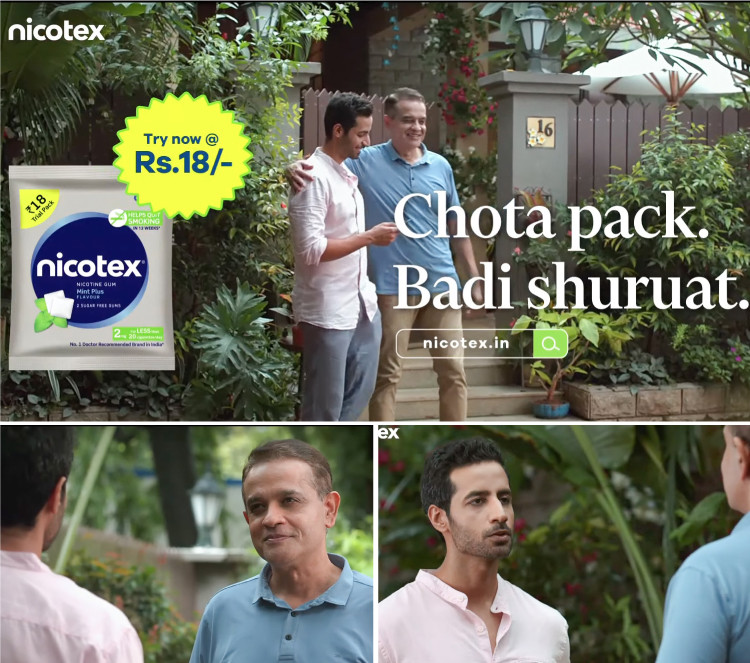 About me
After getting a bachelor's degree in economics I decided to go into advertising because one can't be too creative with economics. I started out with Ogilvy Gurgaon and then went on to work for McCann, Creativeland Asia, Happy Creative Services before joining Spring Marketing Capital. My work has been recognized on various platforms and I have won awards at D&AD Impact (shortlist) Goafest Gold, Silver, bronze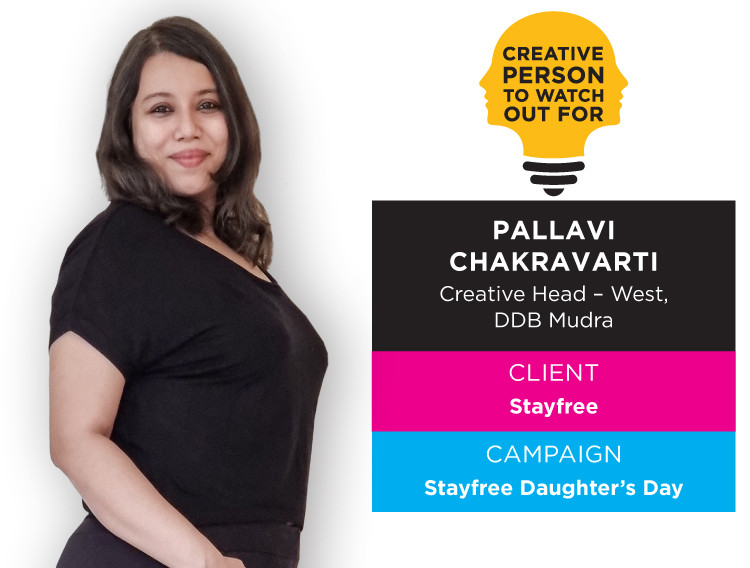 'We made the ad because men feel uneasy talking about periods'
The idea came up because of the fact that men don't talk about periods. For example, I come from a proud, well-educated and for all intents and purposes, progressive Bengali family. But still my dad and I don't ever discuss the topic of periods. Men just do not want to indulge in these conversations. The brand Stayfree's agenda was to normalize the subject of periods. So particularly owning occasions, like Daughter's Day, etc. is very apt for that.
I was bowled over when I discovered that the brand Stayfree was led by men which I think is so progressive because they were so normal regarding conversations on menstruation and sanitary pads; and were discussing it like any other activity under the sun. So, except the team that works on this brand in which gender really doesn't divide, every man you speak to however progressive will feel uneasy. There will be a little giggle and an awkward pause. This behavior is not because they don't know what is happening or are ashamed. It is because it is considered a subject of women, for women and by women. So, men don't even get into it. But when the society normalizes the entire menstruation process, it would be a better and easier conversation to have and there wouldn't be the labels, of shame and guilt associated with it.
When we took up this idea to the client which was meant for Father's Day, the client insisted that we do it for Daughter's Day. There was no selling required as the client was enthusiastic about it just the way we were and really felt that the idea of parenting being an equal job, even menstruation and the discussion about it should be. Both parents must ensure that a young girl is at ease to discuss topics of menstruation and health.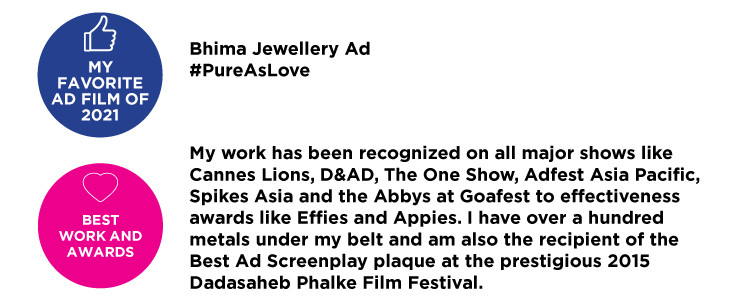 Lot of reactions in the ad film were natural because that's actually the intent of the ad. When the actors read the scripts, they just slipped into it naturally and that's exactly what we were hoping the outcome would be. The shoot was a mix of both natural and slightly scripted scenes for getting candid emotions. Actually, the idea of speaking in Marathi came from the actors, or the respondents. The conversation just seems insurmountable at the onset, but eventually you overcome it owing to the love for your child.
Couple of days after the campaign was released on Daughter's Day, we felt it had hit the right chord, people started talking about the film and it was shared across social media platforms and also on WhatsApp groups. Even I received the ad film on one of the WhatsApp groups I am a part of. Moreover, when I indirectly showed the ad film to my father, he looked at me with a smile and said that this is so important what is being said here. This was possibly the first conversation on periods I have had in my life with him."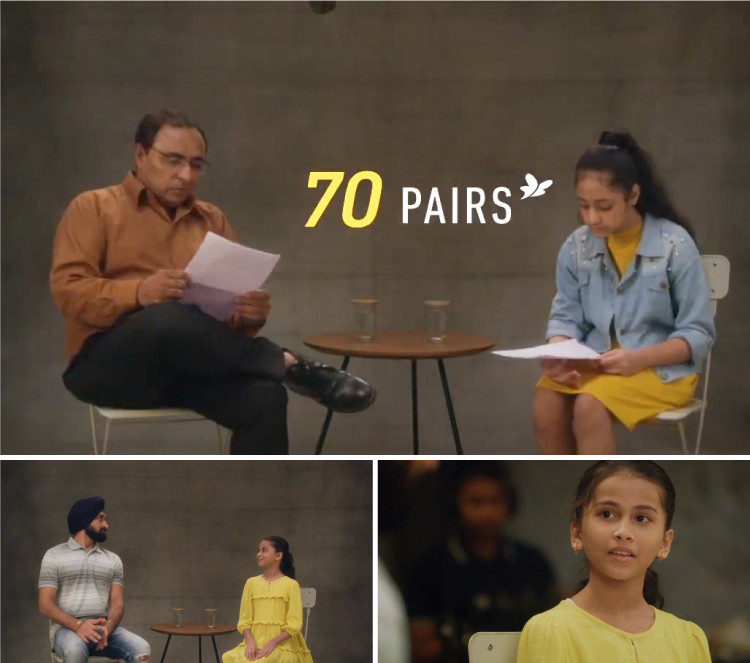 About me
I am currently the Creative Head of West at DDB Mudra in India, having worked at Taproot Dentsu, Saatchi & Saatchi, JWT and Grey previously. In the industry for 18 years now, my client roster includes global names such as Facebook, Instagram, J&J, Unilever, P&G, Uber, General Mills, Pepsi, American Tourister, Airtel etc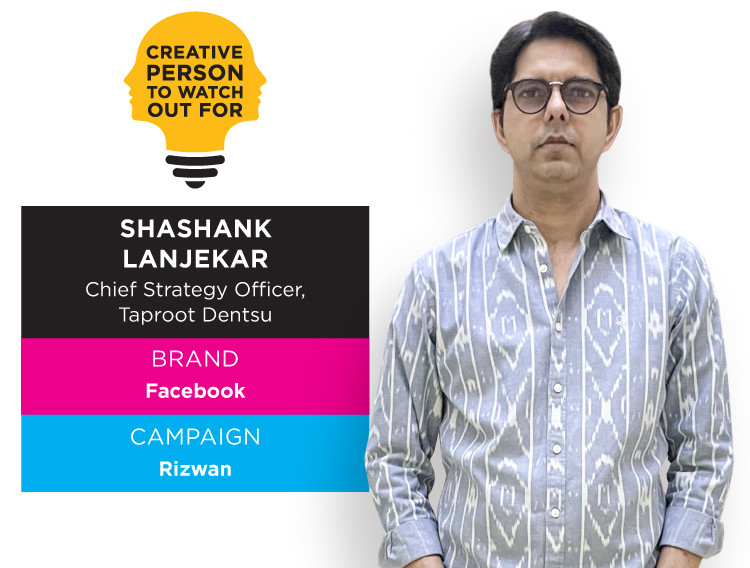 'The Rizwan ad represented the situation during pandemic'
"The Rizwan ad in all honesty is a very truthful reflection of what was happening around the country. The first film- Pooja Didi sort of set the tone for the next ad in the series. In this one there is this boy called Rizwan who has lost his parents, there is the context of Eid and a protagonist of the story, a stubborn old woman who doesn't want to get vaccinated. It was on the premise that senior citizens either lack the resources or have a general resistance to getting vaccinated.
The work on brand Facebook in general and the Rizwan film in particular has been led by Neeraj and team. The Rizwan film was conceived by him and then augmented by many others including Pallavi Chakravarti and of course, Shimit. Our relationship with Facebook is such that there is no schedule in terms of ad delivery, if a great idea strikes us, we can sort of make a call to them and execute it.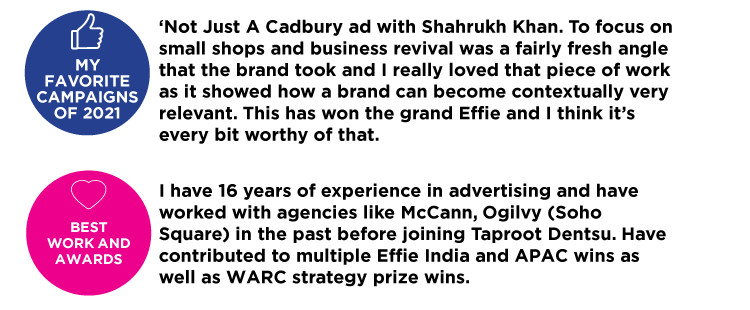 Pooja Didi required a little bit of iterative action to get to where it was eventually. Because it was a seven and a half minutes long film, there were too many questions on how will we pull it off, there were many differences in interpretation when we first explained it over a zoom call. When we did that film, we learned a lot on how to package such content. As a result, when it came to the Rizwan film, it was faster in terms of understanding, alignment, feedback etc. In fact, the turnaround time was just a month and a half.
When you see peers talking about it, and check other parameters like how many times it has been shared, the number of impressions, quality of comments on it, you get a sense that the campaign is working. One of the best reactions we got for the campaign was from an NGO, they reached out both to us, and the client. They told us that they were doing on ground exactly what we showed in the ad and how they were inviting young volunteers to aid those who need help in either understanding the process or traveling to the vaccination centre. The NGO was attempting to help not just senior citizens but also the underprivileged ones to overcome all the barriers around getting vaccinated. That comment was evidence enough for me and my team that we did the right thing via the Rizwan film."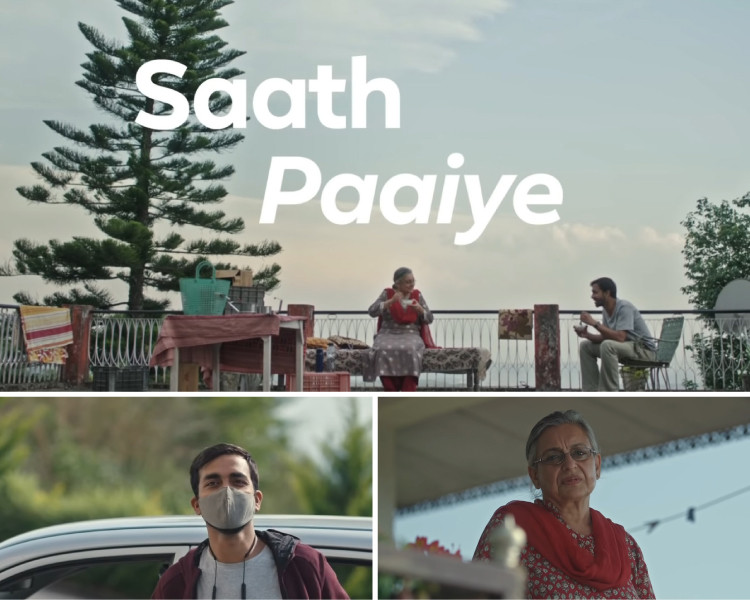 About me
Having come from diverse industries and functions from manufacturing and education marketing to automobile and hardware sales, I have both - the advantage and the disadvantage of not being 'born and brought up in advertising' kind. I think that today, more than ever, we need to not just comprehend the complex maze of the online and offline worlds and how consumers, brands and communication can navigate it, but also simplify it to a level that is easy to get and can be effectively actionable. Else we are at risk of over-thinking, over-analysis and over-burdening both - brands as well as consumers.