Global hospitality company Hilton, with 19 properties in India and another 20 in the development phase, recently rolled out its first major campaign, 'Every Stay is a Story'. Manish Tolani, Vice President & Commercial Director – Hilton India, takes us through the campaign and tells us about the overall marketing strategy for the brand in India
Q] Hilton recently released its maiden brand campaign, 'Every stay is a story,' celebrating its 100th anniversary and India's passion for travel. What is the objective behind this whole exercise?
We are in an expansion phase in the country. We do not have as many hotels as our competitors, but clearly the pipeline is far more robust. We are looking at it from a couple of perspectives. One is what we stand for in India and the other is, globally we are the second largest hotel company. We are celebrating 100 years this year so the campaign is a refresh of what the brand really stands for and gives us a little more reason to tell people what they can expect when they stay at our properties. That is where the theme, 'Every stay is a story' comes from. Across all our enterprise brands, be it The DoubleTree, The Conrad or The Hilton, we expect people to have experiences that are completely personalised and meet their expectations of what the brand stands for. So this gives each hotel, despite being under the larger Hilton brand umbrella, the nuance and the freedom to create local experiences based on local knowledge and capability, while keeping with what the brand stands for.
Q] So, this is like an umbrella campaign for all your brands put together?
Correct. We call this the enterprise campaign; not just for specific brands within the Hilton, but rather an overall brand campaign.
Q] Do you also plan to go ahead with the next chapter of this campaign with influencers?
Yes, that is the idea at the moment. We haven't really zeroed down on how and when. But there is definitely a phase two for this campaign in which we will elevate this theme to the next level. It will start early next year, around February. We have a few more hotels launching in the meantime.
Q] What is your execution plan for phase one in terms of taking the message across to your audiences?
The core objective was to create an association of our brand with a certain set of images. When people repeatedly look at a certain set of images and the message, they connect the images with the brand. And that is what we successfully did in the first phase with the core message 'every stay is a story'. As soon as somebody reads this tagline, they know we are talking about Hilton. In phase one, we had a few influencers go to most of our hotels within the country and narrate their story using the lines, 'This is our Hilton story. What will yours be?'
Q] Who is your consumer, and what media is your target audience consuming?
Most of the consumers have moved to Digital at this stage, but the proportion still sits at close to 65% Print and about 45% Digital. So, it hasn't tipped over completely. Given the fact that the target audience sits between the demographic of maybe 23-24 years onwards up to 55 years, the mix still stays relevant. That will gradually change, but this is where we are sitting right now.
Q] How does a traveller differentiate between your different brands with this particular campaign?
Each of the micro brands has its own brand standards which are designed for service and experience. And that is where the differentiation will come in. For example, the arrival experience in The DoubleTree would be different from The Conrad. The tagline, 'Every stay is a story' gives people the need to go beyond set parameters, sticking to what the local nuances are, to create experiences that money can't buy.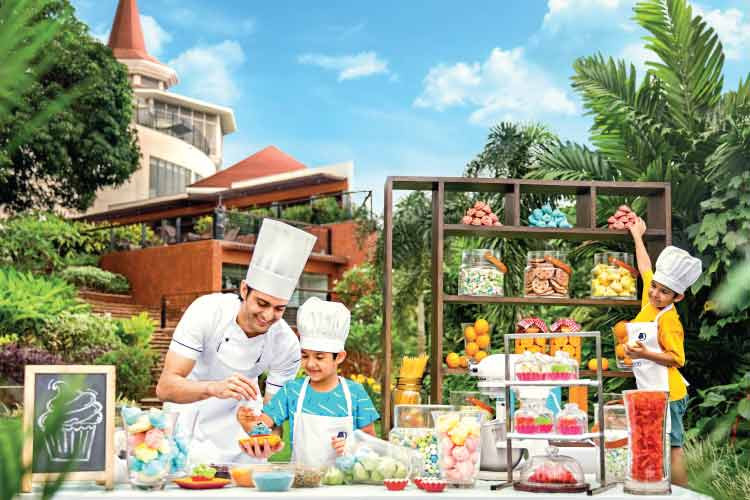 ABOUT THE BRAND
Hilton is a global hospitality company with 19 hotels across five brands in India – Conrad, Hilton, DoubleTree by Hilton, Hilton Garden Inn and Hampton by Hilton. It has approximately 3,200 rooms with presence in Delhi, Mumbai, Bengaluru, Chennai, Lucknow, Jaipur, Ahmedabad, Goa, Pune, Shillim and Trivandrum.
FACTS
Creative Agency: TBWA
Media Agency: Mediacom
PR Agency: MSL Group
Q] What is your current challenge in terms of marketing your brand right now in India?
This is the first time we have gone out there and broken any kind of barrier to start talking about what we stand for, and what the India Hilton story stands for. We are not facing any challenges at this stage because we haven't communicated much until now. We haven't created a lot of noise around the brand, so there is no confusion in the consumer's mind with regard to our communication messages. It's very clear that we have a fairly clean slate and that's what we intend to optimise at this stage. So no challenges yet from a marketing perspective for sure.
Q] In terms of your overall brand strategy, which is the category that you are turning around as of now? Are you looking at pushing the luxury brand specifically?
We are actually looking at it from the market perspective. Even in the markets that we are currently present in, like Mumbai, Gurgaon and Bangalore, we have a lot of headroom to grow. We are not trying to grow the number of brands that are sitting in India right now, but grow the number of hotels in each of the brands.
Q] You are reportedly also planning to bring in your luxury brand Woldorf Astoria Hotels & Resorts to India?
Our development team is in conversation with multiple partners but we haven't really signed documents on that yet. India has always been the market where key cities like Mumbai, Delhi, Bangalore and Chennai have the appetite for luxury brands. And some of these markets have really grown. They do high occupancies most days of the week. We are currently speaking with partners who are aligned in the way we think and who will help us get the brand right in this country.
Q] What is the scenario in smaller cities? Is the demand there only at a certain price point?
Different strokes, different folks. It is different for different cities. For example, in cities like Jaipur, Agra, Varanasi and Raipur, demand gets driven in most of these cities either by leisure or by any set up of large corporate companies or manufacturing units and so on. We see scope of improvement and occupancy in most of the markets. And each city goes by a certain Average Daily Rate (ADR) at this stage but nothing is limited by it.
Q] The hospitality scenario in India has changed a lot with the likes of Airbnb and other brands coming in. What is your view on this?
Clearly, the consumer today is very well informed about new brands and categories coming in. There are more conversations of Indian consumers using these brands outside of India more than in India at this stage. Yes, it is another accommodation option that a consumer has but there is a very well defined target audience for each of these brands. Branded hotels have their own target audience. And at the moment, I don't think either of these categories have lost customers because of others. There will perhaps be a point where the lines start to blur, but I don't see much intersection in the near future.
PROFILE
Manish Tolani, Vice President & Commercial Director – Hilton India, has over 18 years of experience in the hospitality sector. Tolani joined Hilton in November 2018, prior to which he has worked with chains such as ITC Hotels, Marriot International and Oberoi Hotels
& Resorts.
MARKETING TIP
Keep track of your consumer and their media habits before spending your marketing money