2021 was supposed to be the year of revival, when AdEx was slated to recover from the biggest low it witnessed in over a decade. But with the second wave here, the industry seems to be in a quandary yet again. We had seen even the travel brands which were the worst hit during the pandemic, come back to advertising with significant campaigns in the first part of this year. Quarter 2 of 2021 (calendar year) was especially meant to be the period when things start looking up again for the industry with IPL being the highlight, and they were until the second wave struck the country like lightning.

Anand Bhadkamkar, CEO, Dentsu India says, "First quarter was really decent for all the businesses, including advertising, but now May, June is definitely seeing that stress. The government said we may hit the peak in May. So it's going to be more of cautious optimism. Clients are reviewing their budgets, marketing plans and spends but it's a bit early in the day to call out what would be the actual impact. We are looking at it on a case by case basis and not a full blown plan for the entire year."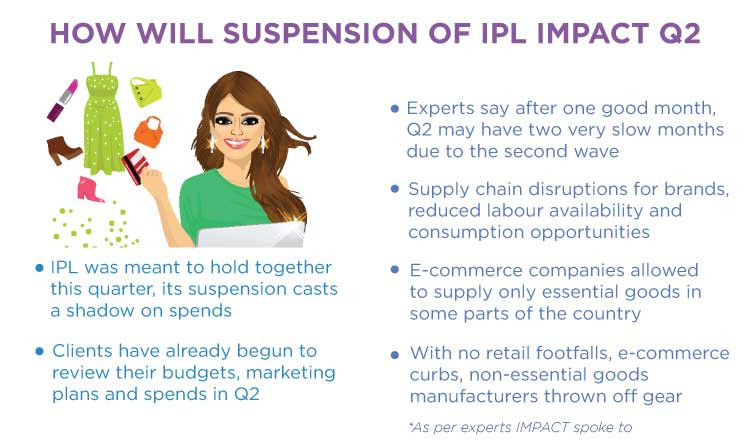 Remember as per the Dentsu India and exchange4media.com report 'Digital Advertising in India 2021', the advertising industry was expected to make a comeback and grow by 10.8% to reach Rs 62,577 crore by the end of the year 2021 while the Pitch Madison Advertising Report, 2021 has predicted a 26% growth for ADEX in 2021, bringing advertising expenditure to Rs. 68,325 crore, similar to 2019 levels.

Talking about the impact of the second wave, Sam Balsara, Chairman and Managing Director, Madison World says, "I must confess we failed to recognise that a second wave could hit us with such intensity. It's a bit too early to estimate the impact of the second wave. We need to wait till the numbers stabilise and start seriously dipping. However I do feel that the negative impact of the second wave on the economy will be nowhere near what it was in the first wave because we are now conditioned to live and succeed in the new reality."
The IPL blow
IPL was meant to be the property that holds together this quarter, but with the suspension of this season midway, there is a question mark on whether advertiser spends can be successfully diverted and whether it will now really make Q2 feel the pinch in addition to the situation worsening owing to the pandemic. The head of a media agency who didn't wish to be named says, "Advertisers for whom this season is critical like air conditioners, ice-cream brands will divert monies immediately to other channels/ platforms as business/ sales targets have to be met. Advertisers for whom this is not the only key season may also continue campaigns on other platforms depending on how well the first four weeks of IPL has impacted business. Star will try and get these advertisers to put money on the rest of their network to minimise loss of earnings as a group. They may be given good deals, sponsorships on other Star shows, etc." Others say that with the possibility of a return of the remaining season of IPL in the next couple of months, it is not exactly a dead end for the committed spends on the league.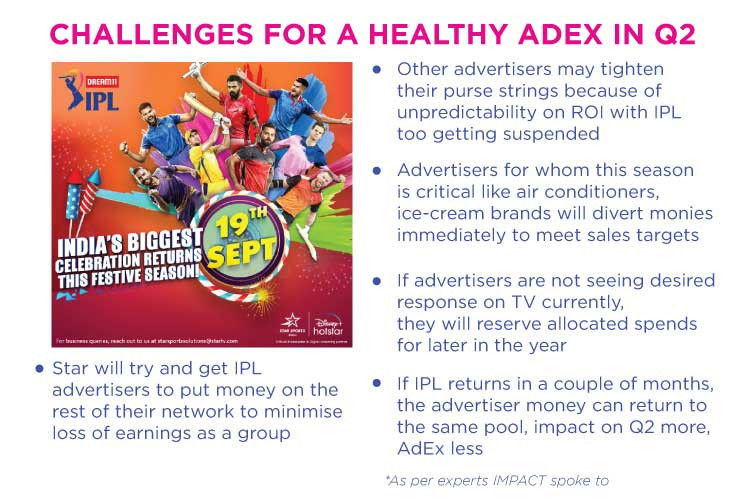 Experts IMPACT spoke to said that marketers are being conservative right now as far as newer spends are concerned. In fact, supply chain disruptions due to lockdowns and e-commerce companies being allowed to supply only essential goods in certain parts of the country like Maharashtra has thrown sectors like consumer electronics and handset manufacturers off gear, and some of these brands have already rolled back spends for this quarter.

Navin Khemka, CEO - MediaCom South Asia says that there is no reason for sentiments to tank just yet and it may all depend on the extent of the lockdown and as far as IPL is concerned 50% of the matches have taken place so the remaining spends will get re-ploughed into fresh content, so we are not talking of big monies here. He further explains the impact of the second wave on advertising overall "In the current lockdown the TV content producers are well prepared. They are moving their shoots to different location and under a bio bubble. This will ensure that there is continuity of content and hold viewership and ad revenues steady. I agree that circumstances like the second wave can have an impact on the AdEx and performance of mediums. But unlike last year brands and agencies have learned our way around which will help us navigate this period better. The situation is much more promising than 2020. With the growth of digital and agencies investing in systems, delivering solutions to brands and clients has changed a lot over the last 12 months."

If one were to go by the PMAR report of 2018 and 2019, the April-May-June period and the October-November-December quarters are the star performers of the year. As per media planners the second half of the year contributes to around typically 56% of AdEx, with the last four months accounting for roughly 43% of the annual spends owing to the festive season.. We saw advertising bouncing back between Jan-April. If the wave subsides in a couple of months; with the festive season and T20 World Cup, and a possibility of a return of IPL in this year, we can still do a good amount of damage control to the AdEx.
Categories hit
A category that may be badly hit in the upcoming months is auto. While most of the passenger car manufacturers' wholesale volumes in April look good, even when compared to the pre lockdown 2019 figures, the next two months may not bring such good news. Typically monsoon is not considered great for possession of new cars, so the right time for car sales was considered to be now. People who had put off purchase last year were renewing interest in buying a two-wheeler or a four-wheeler this year. And perhaps some of that demand has already been captured. But now with car showrooms largely shut and the industry facing disruptions in supply chains, labour availability, retail operations and logistics, sales may take a hit and thus advertising campaigns and spends will take a beating for the next two months.
The general sentiment is that telcos may advertise less to acquire and more for retaining customers who had upgraded to 4G in the first wave, so perhaps not at the same level. Online gaming and fantasy players will continue to spend in higher volumes as this is the best period for them, once IPL and cricket is behind us, those in poker, rummy etc. will join the bandwagon. FMCG will continue to advertise, especially in the summer specific categories, even though at a slightly lower level.
Navin Khemka says, "We predicted FMCG and e-commerce to lay the foundation of the growth, while education, auto, telecom and retail were supposed to be the other drivers. I would say the summer categories could slow down if at all. The months of April/May/June are very critical for them. On the other side a lot of categories like ed-tech, health, computers, and mobility are seeing a huge increase in demand."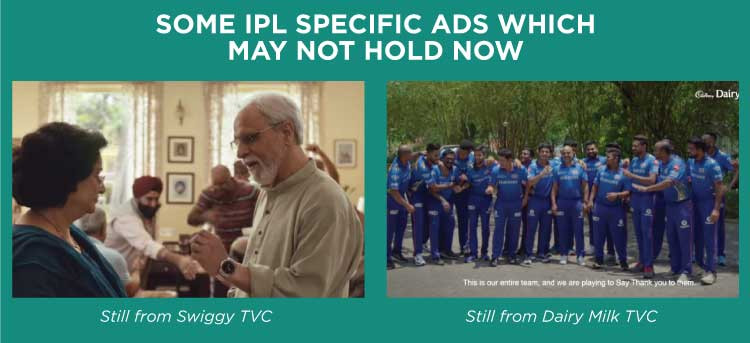 When IMPACT spoke to a confectionary major about whether they will slash spends in the upcoming months because of the second wave, the spokesperson responded, "Haven't decided yet. It will all depend on how the next 2-3 weeks pan out. Having said that, we anyway don't spend much in the May June period, it is low season."
As per a media planner who wanted to remain anonymous, "Unless a category is super confident that there will be demand, I don't see why anybody will want to launch a
product in the current situation unless it is contextually relevant. Also you don't want to launch a new product when distribution is hit. For e.g. last year throughout COVID, Britannia's sales teams were out in the market but this year even an established brand like Britannia with a good distribution system has asked their sales teams to not go out as this particular variant of the virus is extremely infectious. Trains, trucks, all have also been diverted by the government to focus on transportation of medical supplies, which will also have an impact on distribution. If distribution is not in place, there is no point in doing advertising. Also those that will launch products will probably pick a different route like influencer marketing versus the traditional advertising route."
According to Anshuman Chakravarty, CMO, Orient Electric, "The current wave of COVID-19 is casting a spell on an otherwise booming period of sales. Lockdown, containments and with rising cases, markets are not fully functional, and we are getting reports that footfalls have also gone down. Looking at the emerging situation we are evaluating our planned advertising investments, and for sure we will not be aggressive now as far as spends are concerned. However, we remain to be bullish on e-commerce sales and as experienced last year we expect a decent sales growth in e-commerce channels and the ad cuts therefore on online may not be significant."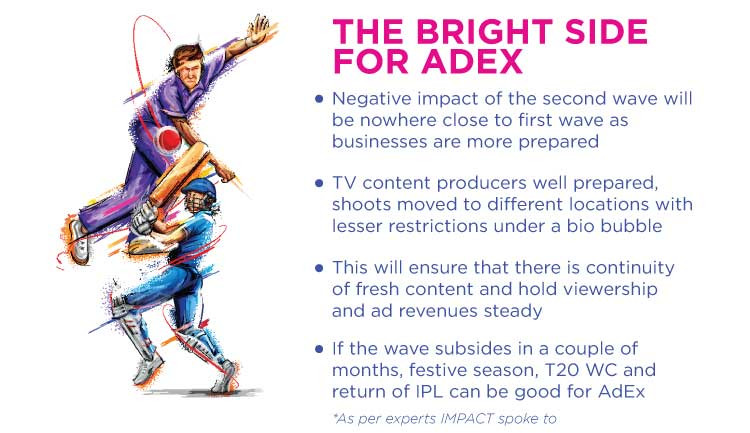 Impact on mediums

Talking about the impact of the current wave on the medium which benefitted the most because of the pandemic i.e. Digital, Heeru Dingra, CEO, WATConsult says, "When you look at spends I don't think digital wallets have shrunk but yes, marketers are very cautious about their business objectives and are hesitant on ad revenue because there is uncertainty on the return on investment. So spends have slowed down, however they haven't come to a halt yet. The IPL suspension is another setback that will urge brands to pivot but once the league resumes, the spends will be back in place. If the spike in cases continues well into July-August, then they will relook at their wallets and start pushing the spends to the festive period. Customers are not in the mindset to buy, or even to look at products or services unless it safeguards them from the current crisis. But if I were to compare the situation to last year, health wise chaos is more but it's lesser from a business standpoint as most businesses are heavily digital-enabled."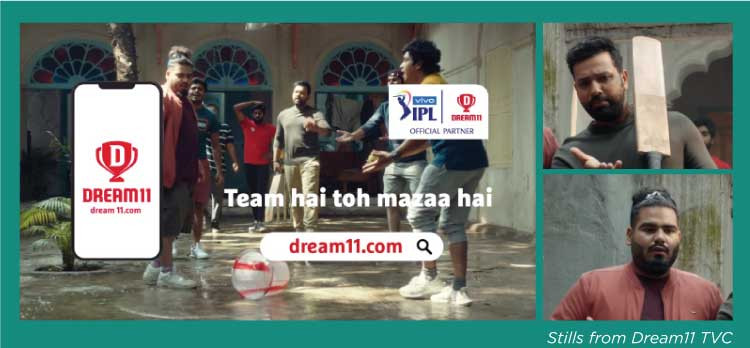 Anand Bhadkamkar says, "Cinema, OOH and Experiential will be at the receiving end of the new wave, the malls had started seeing some footfalls, business had come back to almost 80% to 90% of pre pandemic levels, and it's again back to 10% to 15%."
A media planner who didn't wish to be named said, "OOH and Radio will be badly hit, demand has reduced by almost 50%. In my opinion Print is affected by a good 30-35% even though circulation is in the range of 80-90% which last year had gone down to as little as 50%. Print primarily was used by categories like education, auto, real estate and durables, most of the categories are not essentials right now except education but with education taking a new virtual format, most ed-tech clients like Byju's,
Vedantu and Unacademy are spending more on TV and Digital."
AS Sundaresan, Joint MD & CEO, JSW Paints says, "Because of the second wave, retail and painting will get affected if markets are not open and to that extent, postponed. It will resume once markets open. We are spending now as we speak. Of course we shall optimise it quarter on quarter based on demand and seasonality."
While it is true that with IPL getting suspended, rising health concerns due to the pandemic and consumption opportunities and willingness to spend going down, advertisers may further tighten their purse strings because of unpredictability on the return on investment. While it is a bit early to say how the current wave will impact the economy and advertising in the large run, experts are saying that if the health infrastructure starts rolling through in the next month or so and we are able to cope, then there is no reason for AdEx to not bounce back this year with the predicted double digit growth.


How will suspension of IPL impact AdEx?
A lot of money was riding on IPL 14, but now with BCCI announcing suspension of the league midway due to bubble breaches in two venues, the board says they are staring at a loss of around Rs 2000 crore. On the other hand, experts IMPACT spoke to say roughly Rs 1800-1900 crore worth of IPL ad inventory for May on TV and Digital hangs in balance in this quarter. To what extent will it impact the annual AdEx?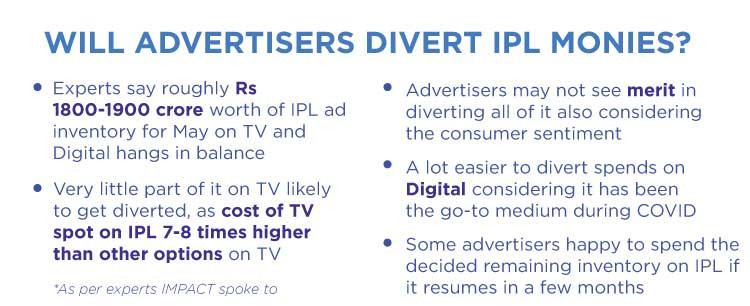 A media planner who didn't wish to be named said that days before IPL 14 was suspended he had estimated AdEx in this second quarter to be approximately 10-15% lesser than the January- March quarter of 2021, but now it will be much more. He says, "Star's revenue from ad spots in April would have been roughly Rs 1400cr (Rs 1200 crore on TV and Rs 200 crore on Hotstar). The ad revenue in May was expected to be in the range of Rs 1800-1900cr (1600cr on TV and 250cr on Hotstar approx.), a very little part of it on TV may get diverted, while a big part of it would get terminated. The cost of TV spots during IPL per match is 7-8 times more than other impact options, so it is unlikely that advertisers will see logic in diverting all the money. It would be a lot easier to divert spends on Digital. Additionally if IPL does take place later in the year then the burden of the suspension will be seen only on this quarter and not the AdEx for the year overall. As of now, we are looking at two very bad months and are
hoping AdEx will swing back to some extent after June. We can still expect a double digit growth in AdEx this year if things improve."
Sameer Makani, Co-Founder and Managing Director, Makani Creatives says, "With the historic increase in cases in the ongoing second wave, public sentiment around the country was in a state of upheaval. Starting on April 9, 2021, the IPL viewership dropped in double digits. Suspending the IPL midway will have minimal effect on advertisers as advertisers are under no liability to pay the broadcaster if the matches are not held. Star India's ad revenues from both TV and digital totalled about Rs 3,000 crore last year. Star India raised ad slot prices to 13 lakh per 10-second this year from 11-12 lakh per 10-second last year, in order to surpass the 2020 revenue goal. Considering the current situation, Star India will take a major hit. Moreover, the total revenue is expected to drop by 50 to 60%."
Another media planner says, "Overall if many advertisers on IPL are possibly not seeing the response like last year as many parts of the country are in lockdown mode, then they will want to conserve monies now for later in the quarter. But net impact on AdEx will be there as with close to half the IPL pending at high CPRPs there will be a net negative impact. Last year total IPL revenue from TV was about Rs 2800 crore for Star and even if advertisers agree to spend on the Star Network and Hotstar, the amount will be lower, so I would say Rs 600-700 crore net drop in AdEx only from IPL. If economy tanks, then expect more."



So if IPL gets cancelled altogether, then it can create a gaping hole in the AdEx spends for the year. But as per a big sponsor of IPL, while he and the other advertisers have every right to pull back spends altogether because the league stands suspended for now, the CMO feels there will be no need to do that. He explains why, "The BCCI has been extremely professional about this, they informed us a couple of days before they formally announced the suspension of IPL and also said that they will come back with a plan on how to complete the league. IPL tentatively might take place in the next 45-60 days by shifting the venue to UAE, once the wave passes. Even if it were to get cancelled then there is a possibility that our funds could be used on another cricketing property with Star or moved to IPL next year. In a situation like this, there are clauses that kick in the pro rata concept, where you can pay for half a league which took place and the other half could be adjusted or explored next year because these are multi- year deals. Leagues across the world have been hit with COVID and have come back a little later. It is a fair contract."



As per BARC numbers, the suspension of the league may in a way be a blessing for advertisers as IPL was not getting as many eyeballs as last year because of the worsening health crisis. An average of 105 million unique viewers watched 17 matches in the first two weeks of IPL 2021, registering a dip of 9.5% over last year. In 2020, an average of 116 million unique viewers watched 14 matches in the first two weeks of the league. Having said that, will a disjointed league not interfere with the continuity of their brand's messaging or lead to added expenditure on the creative side? The CMO replies, "On the contrary, I feel it's good because you get a one month spike on IPL as a marketer for your daily investments, then it's quiet for maybe the next two months, and then you get another burst. So, as a marketer, it's not much of a drawback considering that it happened not three four days into the league but exactly midway. As far as creatives are concerned, yes we were refreshing some of them, but that's okay. We can continue to do that once IPL resumes. It doesn't have any added cost implications for any brand."
So if the league gets pushed to a later part of the year, the intended spends may more or less come back into the pool, thereby not impacting overall AdEx in as big a way as it might if it gets cancelled.


IMPACT OF 2nd WAVE ON CREATIVE AGENCIES
2021 has begun to look like a haunting reminder of the first part of 2020, but as far as business is concerned are we better placed to absorb the impact of the pandemic or will it once again start spelling the same kind of troubles for creative and digital agencies?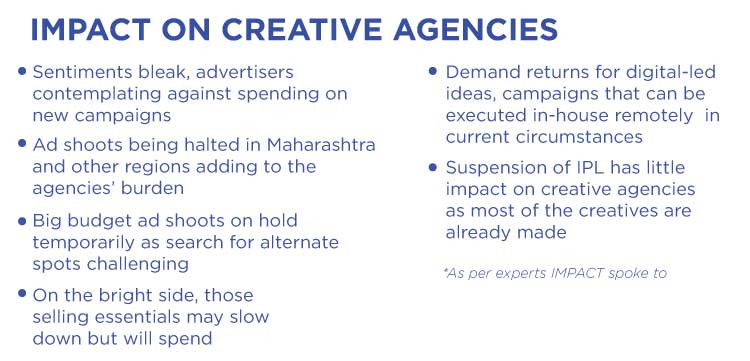 Starting with the elephant in the room, the suspension of IPL that had kept most creative agencies busy this season, Anil Nair, CEO, VMLY&R says, "Creative agencies will be affected the least as most assets would have already been created. But it will affect the other players, mainly media agencies, digital agencies and influencer companies who would have been midstream when this suspension was announced. Other than last mile digital creatives and moment marketing content, most heavy duty content would have already been created, unless it's the booster content of the type Cred made. Once the first few ads became successful, they needed to make more creatives."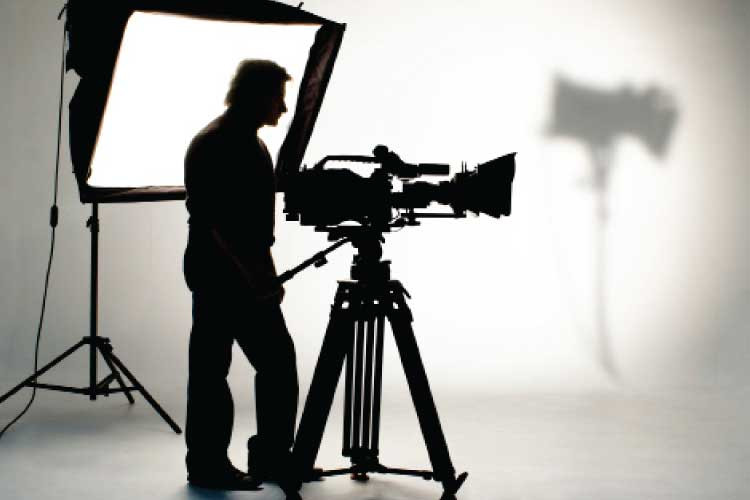 But there just might be a bright side to the suspension. Abhik Santara, CEO, Atom explains, "For creative agencies, the impact will be less – in fact there may be an upside. The work is already created for IPL – production is done and revenues are already made. And, since most of the work around IPL uses cricket as a theme, there will be a need to create new campaigns. I think agencies with creative AOR should be able to convince their brand partners to create work which is in line with the current situation – be responsible and useful to consumers in a direct or indirect way."
But will brands want to spend on newer campaigns at a time when the market sentiment is getting weaker by the day? Are clients asking agencies to cut back on fees and production budgets of the planned projects too? Bodh Deb, Vice President, Autumn Grey explains. "Not at all. In fact, there is pressure on us to find
smarter and innovative ways to keep the show going. The whole of April went in clients and agencies adopting the 'let's wait and watch' policy. However we have already started seeing clients wanting ideas that can be executed without location shoots. Street-smart digital led ideas, campaigns that can be executed in-house remotely will be in demand now again, especially for the next three months i.e. May, June and July. Big budget TV campaigns might have to wait till August or September for things to normalise a bit again."
Last month, ad shoots were put on hold in Maharashtra and some other popular destinations, which forced marketers and content creators to look at other parts of the country with lesser restrictions like Himachal Pradesh and Uttarakhand. A creative agency head on the condition of anonymity said, "We have a bunch of clients who didn't want to reduce their marketing budgets but were forced to as there was no avenue to spend because of the lockdown in parts of the country that restricts retail movements, footfalls, distribution and consumption opportunities. And owing to ad shoot restrictions, they were not able to shoot the TVC. They are pushing it till further notice, also keeping in mind the sensitivity of the situation. This coming quarter- July to September though dull with regards to media spends is actually the production quarter for the festival season as far as the creative agencies are concerned. If there are lockdowns, and no avenues for production, then clients may end up either running old content or transferring more money into digital and digital commerce, which will then impact our revenue."

Talking about how this is a learning experience most agencies can use in future, Hemant Misra, MD, MagicCircle who has handled travel brands like Indigo and Make My Trip says, "In the short term, we have continued to be productive and churn out our work from home, do meetings over video calls, cut costs and this can well continue till when the virus reduces to a mere irritant. The first wave was more devastating for business as it was unexpected and it seemed like there was no end in sight, while in the second wave businesses won't need to shut down as they have already adapted."
While pitches are expected to be on hold for a while, there is a clear demarcation amongst advertisers who sell must-haves and can-haves during the pandemic. Those in categories like FMCG, Health, Insurance, ed-tech etc. will continue to spend, perhaps more. Adding to that there are properties like the T20 World Cup and Olympics on the anvil and most importantly the promise of vaccination, which makes the situation starkly different and more positive for businesses when compared to the first wave.