Indian Direct-to-home (DTH) and pay-TV operator, Tata Sky recently rebranded itself as Tata Play to amplify its presence in the Indian media and entertainment space. The brand has also unveiled two new campaign films featuring Saif Ali Khan- Kareena Kapoor Khan and R Madhavan-Priya Mani to announce its partnership with the OTT platform Netflix. Anurag Kumar – Chief Communications Officer, Tata Play Ltd. tells us how changing the brand's already popular identity will benefit them in the long run.
Q] What was the prime objective behind the rebranding exercise and what reactions did you get?
The primary objective was to represent our expanded services. Tata Sky is a very strong name in the country and synonymous with great quality TV watching, we were doing very well on that, and there are no issues. But as the content distribution landscape in the country had evolved beyond pay TV and into the OTT space as well, we wanted to look for a name which could transcend this broader identity, and talk about the fact that we are offering all of the content distribution platforms, be it D2H or OTT together. And that's why we decided to go for a change of name. The reactions have been extremely positive.
Q] How do you plan to promote this new brand identity and what marketing strategies have you planned?
We started with a 'Roadblock' on the entire Star network by taking all the 48 channels of the Star network minus the sports channels for 24hrs, starting from 6pm and ended it the next day at 6pm, converting all the paid ads to Tata Play ads. That obviously has given us a lot of visibility. We have also engaged with celebrities to get our message across. We have featured Saif and Kareena in our ad for Hindi speaking markets and for south we have Madhavan and Priyamani. Besides the Star network, we are also active on other networks on TV as well. And the overall plan will continue for the next 6-7 weeks. We are very big on social media, all our celebrities are also posting the ads they are featured in, on their own social handles. Kareena has already clocked some 1.7 million views on her ad. We are engaging with influencers too.
Q] What was the insight behind Tata Play's new brand film? What was your brief to the creative agency?
The idea was to communicate the fact that the name of the brand has changed from Tata Sky to Tata Play, and that it has got all these new features, but we wanted to do it in the most entertaining way possible. So, the advertising was supposed to be just as much of entertainment so that people can consume it the way they would consume any entertainment content. And the fact that we had celebrity power behind that obviously helped. We have Saif and Kareena, the real life couple with some great chemistry, and we were able to bring that alive on screen.
Q] Tell us a bit about your partnership with Netflix. How will this association help Tata Play at a time when there have been reports saying Netflix is facing difficulties in the Indian market?
The association is very simple and we have a partnership wherein we have made these curated bundles which are basically packs which include selected TV channels in different languages along with Netflix subscription. And Netflix subscriptions are also available at different price points, so you can watch it on two screens, three screens, four screens, etc. We have bundled our TV channels along with Netflix packs into a single pack. So it's really one subscription, you don't have to bother about having to pay directly. We also are going to carry Netflix on our Tata Play binge plus set top box. So, the advantage is that you'll also have a Netflix hotkey. We believe that it will be a great proposition from a convenience standpoint for all our customers to be able to subscribe to it together. As far as Netflix facing difficulties in India is concerned, obviously that is something they will be able to answer the best.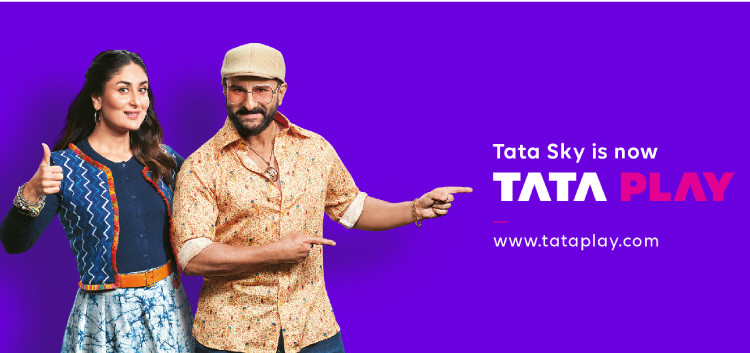 ABOUT THE BRAND
Tata Play Limited (formerly known as Tata Sky Limited), is a joint venture between Tata Sons Private Limited and TFCF Corporation (formerly known as Twenty-First Century Fox, Inc., and now a part of the Walt Disney Company). Incorporated in 2001 and having initiated services in the year 2006, Tata Play is a content distribution platform providing Pay TV and OTT services.
FACTS
Media Agency: Wavemaker
Creative Agency: Ogilvy India
PR Agency: Ruder Finn Asia


Q] What is your market share in the DTH business currently and which are your strongest growth markets as of today?
The last TRA report showed that we had more than 33% market share, so we have more than 1/3rd of the DTH market subscriber base. In terms of growth, we are a national brand present across the country. We do believe that the cable dominated markets such as southern India, Maharashtra, West Bengal, etc. are likely to give us more immediate gains than the other markets. But it does not mean that the other markets are not active, we are equally active in the other markets, we also gain a fair share from the DD Free Dish dominated markets, like we get from the cable dominated markets. In cable dominated markets, people are already used to paying, they find it easier to move to another platform where they have to pay a similar amount of money, but they get better quality. And if you're a Free Dish customer, then you're not paying anything month on month. So, then you have to make that switch where you start to pay month on month. So, we also get people from Free Dish, but the rate at which they come will be obviously slower than the rate at which the cable people will come to Tata Play. Therefore, our opportunities are everywhere, cable first followed by the Free Dish market.
Q] What kind of growth have you seen during the past year? With the rebranding now, what are your plans for the brand going forward?
We've been able to kind of maintain our overall business during the pandemic, which has been very challenging for most industries. Our industry has been relatively less impacted, we're fortunate that we are an industry where people see value in content. During the pandemic, we have been able to maintain our base and serve our customers well. And our market share actually used to be growing from strength to strength. So we continue to be the leader in the DTH market. And going forward, the biggest job for the brand is really to establish Tata Play very clearly in the minds of our consumers, both our existing subscribers and also potential subscribers.